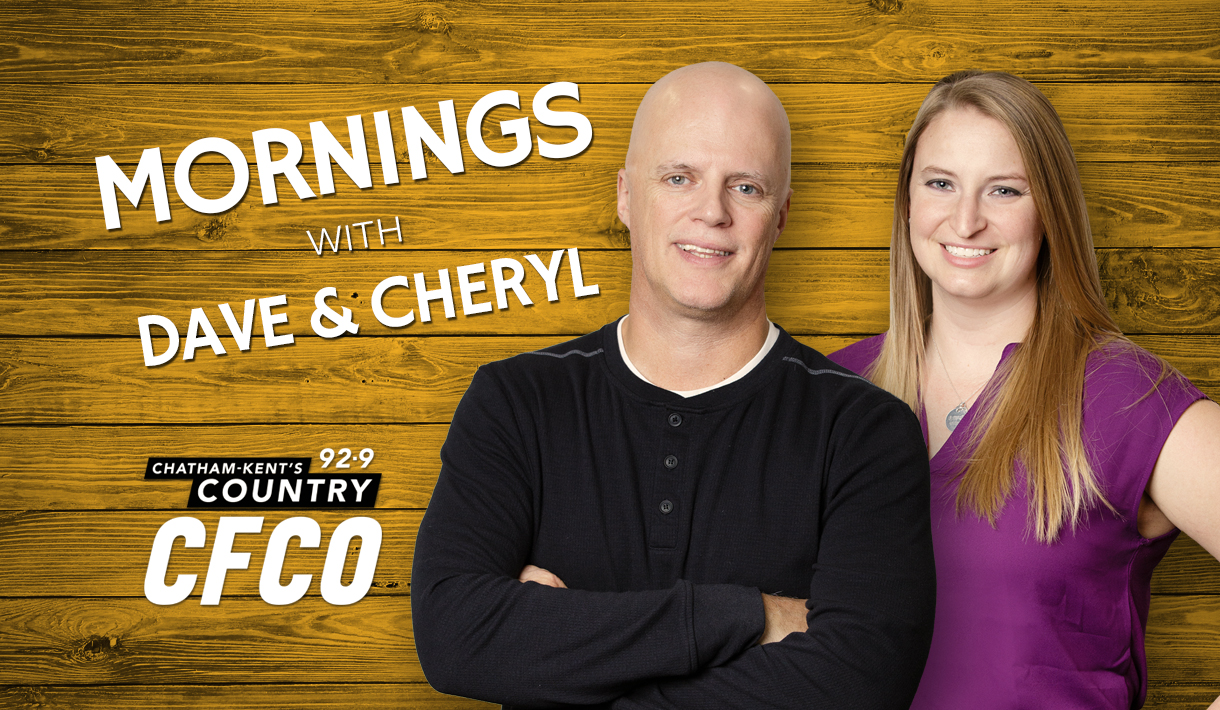 On Today's Show
➢ People on TikTok have been talking about a new MYSTERY illness going around that's worse than allergies, but not nearly as bad as Covid.  Yeah . . . it's just the common cold.
➢ A parking space in an affluent Hong Kong neighborhood sold for $1.3 million — a new world record. The parking space at the luxury Mount Nicholson residential project was sold by Wharf Holdings Ltd. and Nan Fung Group sold for a total $1.3 million to an unidentified buyer.
➢ An emu that who became a star on social media after running around the city of Prince George, B.C., is once again on the loose after being captured at the local airport and later vaulting its way to freedom. 
The origins of the giant bird are unknown. However, the emu was seen running alongside a train and spotted in an industrial section of town before makings its way to fields surrounding the airport where it was briefly captured before making its escape a second time.
Brent Meise of Blackspruce Farm managed to shepherd the emu into a horse trailer before it escaped a second time. Meise keeps his own emus in a specialized pen but said the birds are territorial, so it wouldn't be safe to introduce one in a panicked state to a new environment, especially without getting a vet check for communicable diseases first.
"So we put in the horse corral, which was not very effective," he said.
The emu managed to hook its foot on the bottom rung of the corral and used it to launch itself to freedom a second time.
➢  A former Disney employee shared the stupidest question she ever got from a guest.  Listen to it, here.  (The guest thought Disney's "Magical Express Service" was supposed to pick up their luggage from their front porch at home . . . and deliver it to their hotel room.)
TODAY IS……………….
"Ball Point Pen Day", commemorating its 1943 invention by Lasalo Biro of Budapest, Hungary. During WW2, Britain's Royal Air Force commissioned him to develop an instrument that could write under low atmospheric pressure at high altitude. 
"Alcoholics Anonymous Founders' Day" On June 10, 1935, Bill Wilson and Dr. Robert Smith set out to find the best way to reform alcoholics, and Alcoholics Anonymous was born. 
_____________________________________________________________________________
COUNTRY MUSIC NOTE
Clint Black's debut single, "A Better Man," reached Number one on the Billboard country chart in 1989.
_____________________________________________________________________________
FOUR RANDOM FACTS 
 There was a 

Gene Autry

Western in 1935 called 

"The Phantom Empire"

where a singing cowboy discovers an underground high-tech civilization with robots under his ranch.
There are four NFL teams that have won every Super Bowl they've played in.  The Baltimore Ravens and Tampa Bay Buccaneers are both 2-and-0 . . . and the New York Jets and New Orleans Saints are 1-and-0.
The version of 

"Willy Wonka & the Chocolate Factory"

with 

Gene Wilder

 was kind of a bomb . . . it cost $3 million to make and only made $4 million at the box office in 1971.
It took the creator of the Rubik's Cube, Erno Rubik, one month to solve the cube after he created it; the world record is 3.47 seconds.
________________________________________________________________________________________
GOOD NEWS 
The Calm app has pledged to pay $15,000 to a French mental health organization in support of the world's Number 2-ranked women's tennis player Naomi Osaka — and to do the same for any other French Open player who opts out of press appearances. 
Osaka withdrew from the French Open after the first round, following her being fined for choosing not to participate in required press events that she says are damaging to her mental health. 
To show support for Osaka and to take a stand for the importance of mental health, the Calm app has pledged to donate $15,000, the same amount as Osaka's fine, to a French mental health organization.
______________________________________________________________________________
BIRTHDAYS 
[57] Kate Flannery, actress ('Meredith Palmer' on "The Office" 2005-13)
[56] Elizabeth Hurley, actress 
[42] Lee Brice, country singer 
[29] Kate Upton, model/sometime movie actress/married to Houston Astros pitcher 
Justin Verlander since 2017
_______________________________________________________________________________________
A Guy in a D.A.R.E. T-Shirt Was Busted for Drugs
Someone crashed their car in Columbia, Missouri last Thursday and got busted for driving while intoxicated.  But that's not the person who made headlines.
27-year-old Tanner Hutcheson was a passenger in the car.  And it's not clear if he'd been drinking too.  But he was wearing a "D.A.R.E." T-shirt that said "Drugs Are Bad."
And cops ended up finding drugs on him and arresting him for possession of a controlled substance. No word yet on what kind of drugs they were, but he was on probation for a previous drug arrest last year.
Back in December, he was sentenced to five years in prison for drugs, but a judge suspended it and gave him five years' probation instead.  Meaning he's probably going to prison for a while now. And also a bummer:  They confiscated his shirt as evidence. 
Image of kidnapped woman on truck 
This really isn't cool. Police were recently called in England after drivers spotted a truck bearing the image of a woman lying down tied up on the back of it. The truck was reported to police after being spotted at traffic lights near Norwich, Norfolk. A police spokesman said, "A woman reported seeing a blue pick-up truck with vinyl printed on the back of the truck showing a woman being tied up, blindfolded, [and] bound as if being kidnapped. Enquiries are ongoing."  
____________________________________________________________________________
Scientists Figured Out Why the Sound of People Eating Annoys Us So Much
There's a reason your parents told you to chew with your mouth shut.  It's not just rude, it's also ANNOYING.  And scientists may have finally figured out why we hate it so much . . .
People who get REALLY annoyed by it have something called misophonia.  
(Pronounced miss-oh-FONE-ee-uh)  That's where common sounds like chewing or heavy breathing can drive you nuts. Researchers scanned people's brains while they played different sounds that might trigger a reaction.  And for people who have the condition, certain parts of their brain lit up MUCH more than people who don't have it.
One section that lit up was the part of your brain that processes sound, which makes sense.  And that happened with everyone, even people who aren't extra-sensitive to it.
In other words, hearing someone chew their food can activate the part of your brain that wouldn't usually kick in unless YOU were chewing.
So for people with misophonia, it can feel like an intrusion.  And it can give them the urge to chew or swallow, even though they're not eating. 
THURSDAY JUNE 10TH  
 

NYI 6  Boston 2  (NYI 4-2)
Blue Jays 6  White Sox 2 Mariners 9 Tigers 6
  JBS USA, the world's largest meat processing company, said yesterday evening (June 9th) that it had paid an $11 million ransom those behind the cyberattack that led to the shutdown of its U.S. beef processing operation last week. Their CEO said, "This was a very difficult decision to make for our company and for me personally. However, we felt this decision had to be made to prevent any potential risk for our customers.". The U.S. believes a criminal gang which is based in Russia or Eastern Europe, carried out the cyberattack. 
 

A woman on TikTok discovered her 

long-lost sister

and that they had matching tattoos. Victoria Voorhees found her half-sister through a 23andMe DNA home testing kit.  Here is Victoria talking about how it happened. 
  Here's a classic from George Carlin, about unusual things that we all seem to do.  (From his 1992 HBO special, and 14th album, "Jammin' in New York".)
Kane Brown Was the Big Winner at Last Night's "CMT Music Awards"
KANE BROWN was the big winner at last night's "CMT Music Awards".  He won the Male Video of the Year trophy for "Worship You" . . . and, along with CHRIS YOUNG, won Collaborative Video of the Year for "Famous Friends".
CARRIE UNDERWOOD and JOHN LEGEND took home Video of the Year for "Hallelujah".  It's Carrie's 23rd award, and counting.  She has the most in CMT history.
As for the actual show . . . it was all over the place.  Literally.  They still did social distancing, so artists performed at so many different locations it was hard to keep track.  
We learned some history last night.  MICKEY GUYTON introduced an eye-opening video tribute to LINDA MARTELL, who was given the CMT Equal Play Award.  Linda was the first black woman to crack the Top 20 Country Airplay chart back in 1969, and she faced terrible discrimination.
Video of the Year:  

"Hallelujah"

, 

Carrie Underwood 

with 

John Legend

Female Video of the Year:  

"The Good Ones"

, 

Gabby Barrett

Male Video of the Year:  

"Worship You"

, 

Kane Brown

Duo / Group Video of the Year:  

"Wine, Beer, Whiskey"

, 

Little Big Town

CMT Performance of the Year:  

"The Other Girl"

, 

Kelsea Ballerini 

and 

Halsey

. . . from 

"2020 CMT Music Awards"

Collaborative Video of the Year:  

"Famous Friends"

, 

Chris Young

and 

Kane Brown

Breakthrough Video of the Year:  

"Nobody"

, 

Dylan Scott
(You might also be interested in CMT's list of their "Top Five Memorable Moments" . . . including Lindsay Ell and her broken foot, which happened while chasing her dog.  True.)
KANE BROWN, CARRIE UNDERWOOD BIG WINNERS AT CMT MUSIC AWARDS 
Kane Brown not only co-hosted last night's (Wednesday, June 9th) CMT Music Awards in Nashville with Kelsea Ballerini but managed to take home the most trophies with two wins for Male Video for "Worship You" and Collaborative Video with Chris Young for "Famous Friends." Carrie Underwood took home the night's biggest award, Video of the Year, for "Hallelujah" with John Legend.
Gabby Barrett won Female Video of the Year for "The Good Ones," however she was not there to receive it. She pulled out of the show — and a scheduled live performance — a few days prior citing "personal circumstances."
We learned some history last night.  MICKEY GUYTON introduced an eye-opening video tribute to LINDA MARTELL, who was given the CMT Equal Play Award.  Linda was the first black woman to crack the Top 20 Country Airplay chart back in 1969, and she faced terrible discrimination.
Here is the complete list of CMT Music Awards winners:
Video of the Year
Carrie Underwood with John Legend, "Hallelujah"
Female Video of the Year
Gabby Barrett, "The Good Ones"
Male Video of the Year
Kane Brown, "Worship You"
Duo/Group Video of the Year
Little Big Town, "Wine, Beer, Whiskey"
Collaborative Video of the Year
Chris Young and Kane Brown, "Famous Friends"
______________________________________________________________________________
Scotty McCreery on Being Starstruck by Dolly, and Mistaken for Clay Aiken
SCOTTY MCCREERY says he still gets starstruck by his country music heroes.  He gets tongue-tied around people like Garth Brooks and George Strait . . . but the ultimate was when he met Dolly Parton the very first time.
Quote, "The most starstruck was meeting Dolly.  Somebody captured a picture of it, and you can see the twinkle in my eye and the grin I had.  It was quite a moment.  I'm not sure what I said, probably didn't make sense.  It was pretty spectacular."
He said the stories about Dolly being a sweetheart are true.  She's the queen of country, but she makes you feel like someone who'd be at your Thanksgiving table.
In the same interview he was asked if he's ever been mistaken for another celebrity.  He said people always confuse him with Clay Aiken.  They've both lived in Raleigh, North Carolina and competed on "American Idol".