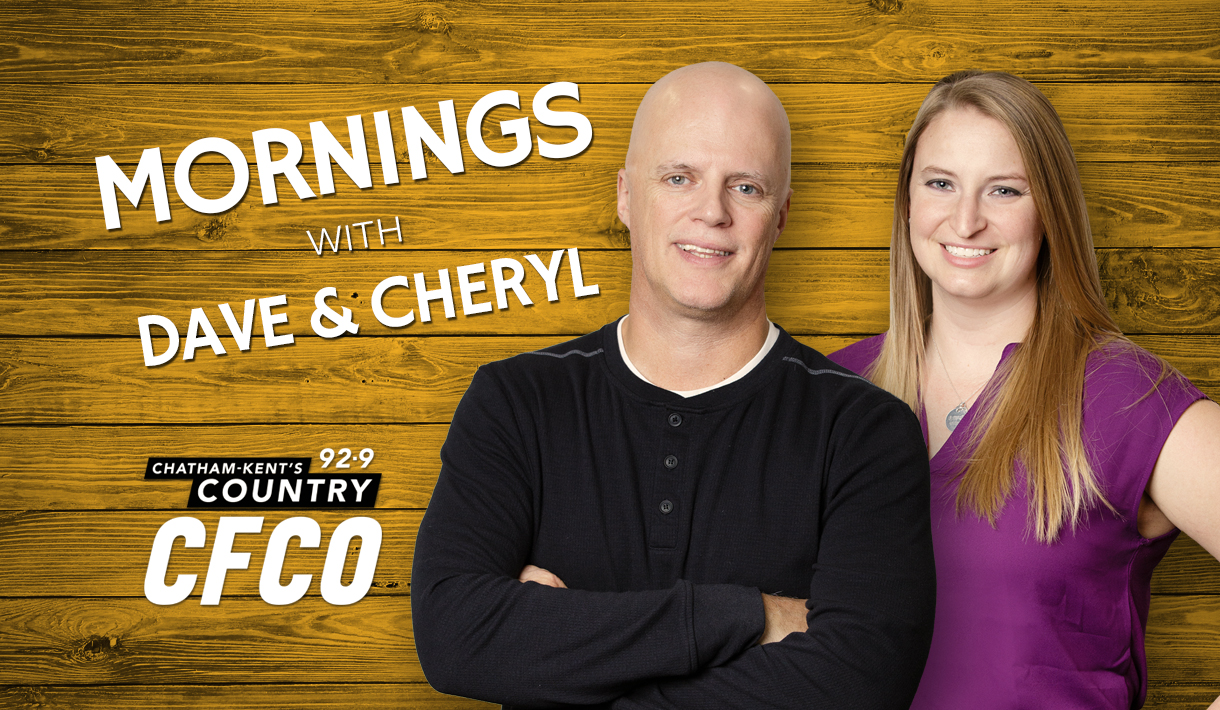 On Today's Show
➢ The $70 million Lotto Max jackpot is still unclaimed, with no winner in Tuesday night's draw.
However, 28 of the 50 Maxmillion prizes of $1 million were won. The majority were sold in Ontario, with 14 winning tickets. Another six were sold in the Prairies, five in Quebec, two in British Columbia and one in the Atlantic provinces.
The jackpot for the next draw FRIDAY will remain at an estimated $70 million, with 50 Maxmillion prizes of $1 million each once again up for grabs.
➢ Police were called to help a man who got his SUV stuck on the sixth hole of a golf course in Newton, Massachusetts.  The driver blamed the Waze traffic app for getting him stuck.  (Here's a scene from "The Office" where Michael does the same thing but with a lake.) 
➢ The name "Karen" comes with a stigma now that it's used as a derogatory term.  And all the bad press might be driving Karens to EXTINCTION. New data shows the name "Karen" is less popular now than it's been in almost a CENTURY. Only 325 babies named Karen were born in the U.S. last year, making it the 831st most popular name for a girl.  The last time it ranked that low was 94 years ago in 1927. It peaked in popularity in 1965 when it was the third most popular name for a girl.  The name has been falling in popularity for a while though, even before the whole "Karen" thing started. So it could drop out of the top 1,000 soon.
➢ American workers overall saw a two percent pay decrease last year, while many lost their jobs outright to the COVID-19 pandemic shutdown. But their bosses are doing just fine. 
CEO compensation was up 15 percent from 2019, to $13.9 million, their average pay was 689 times that of their employees. Many corporations bent their own rules to reward the bosses even as company profits plunged.
The highest-paid American CEO in 2020 was Hilton Hotels' Christopher Nassetta, whose compensation package was worth $55.9 million last year. Median pay at the company was $28,608, down from $43,695 the year before.
➢  Police are blaming a cicada (sih-KAY'-duh) for causing a car crash in Ohio.
Someone was driving in Cincinnati on Monday when a single cicada flew in through their window . . . hit them in the FACE . . . and made them crash. 
They slammed into a telephone pole, and their car was totaled.  Luckily they weren't seriously hurt. Police are telling motorists to keep their windows closed for the time being.
COUNTRY MUSIC NOTE
Kenny Chesney's "Don't Happen Twice" went to Number One on the Billboard country chart in 2001.
_____________________________________________________________________________
GETTING THE SHOT:
Many US states have launched some sort of a vaccine lottery to encourage people to be vaccinated against COVID-19. 
In Ohio, a random entrant each week wins a million dollars. Now, West Virginia has decided to get in on the action. And West Virginia's prizes are awesome. The state will hold twice-weekly drawings between June 20-Aug. 4 for $1 million.  
But it's some of the other prizes that are getting all of the attention. Among them:
One grand prize of just under $1.6 million




• $588,000 (second prize)




• 2 Ford F-150 Pickup Trucks with Rocky Ridge Lift Kits (value $88K each)




• 5 lifetime Hunting and Fishing Licenses




• 25 weekend getaways to West Virginia State Parks




• 10 custom rifles and shotguns




• 2 full scholarships to West Virginia schools
Jonathan Carlyle of Ohio is the second Vax-a-Million lotto winner for that state.  He walked away with one million dollars and just recently got his vaccine.  Here is Jonathan talking about what happened. 
______________________________________________________________________________
GOOD NEWS 
If you're one of those people who constantly keeps an eye on the "step counter" app on your phone, a new study has some good news for you: 
Taking 4,500 steps per day can help you live longer. And researchers say it doesn't matter if you take them all at once or in short spurts. The study, involving more than 16,000 women over the age of 60, was presented at the American Heart Association's Health Conference 2021. 
Study authors asked participants to wear a step-counter to measure activity over 4-7 days. Those who took 4,500 steps per day had a significantly lower risk of death in comparison to the least active women.
In comparison to taking no steps at all, researchers found each additional 1,000 steps contributes to a 28% decrease in risk of death. Research has showed that the average American takes between 3,000 and 4,000 steps each day. Canadians? 4,800.
______________________________________________________________________________
BIRTHDAYS 
[65] Patricia Cornwell, author (one of the world's top-selling crime novelists, her best-known series features forensic pathologist 'Dr. Kay Scarpetta')/over 100 million books sold
[60] Michael J Fox, actor ("Family Ties" 1982-89, "Spin City" 1996-2000)/("Back to the Future")
[58] Johnny Depp, actor 
[40] Natalie Portman, actress (Oscar-"Black Swan", "Thor" films) 
_________________________________________________________________________________________
Half of Us Think Dinosaurs Might Still Exist in a Remote Corner of the World
Last Wednesday was International Dinosaur Day.  And a new poll found American adults know VERY little about dinosaurs even though we loved them as kids.
Here's the craziest stat:  Close to HALF of Americans said they think it's possible dinosaurs STILL EXIST in some remote corner of the world.  (That MIGHT be true if you count birds . . . or if there's a real-life Jurassic Park we don't know about.)
Here are a few more quick stats on what we know . . . and don't know . . . about dinosaurs . . .
One in five adults think dinosaurs were still roaming the Earth in large numbers 100 years ago.  But fossil records put it at more like 65 MILLION years.
54% think they only lived in Africa and North America.  But their bones have been found all over the world.
The average adult can name four different dinosaurs.  T-rexes are #1.  47% couldn't identify a triceratops. 
____________________________________________________________________________
DOES SUNSCREEN EXPIRE? 
Sunscreen is meant to be used year-round, but if you only reach for it during the warmer months you're not alone.
Is it safe to use your sunscreen from last summer this summer? 
The Food and Drug Administration (FDA), which regulates sunscreens, mandates that sunscreens be formulated to stay stable and effective for three years. 
And they'll remain so, even if the container has been opened. Some sunscreens have an expiration date on the container, which makes it easy to determine the product's "freshness," but disclosing an expiration date is not is not required by the FDA. 
Regardless of a sunscreen's expiration date or purchase date, it should be tossed if it's "spoiled"—if the product is watery, has changed color, or has a funny smell it's time to throw it away. 
WEDNESDAY JUNE 9TH  
The $70 million Lotto Max jackpot is still unclaimed, with no winner in Tuesday night's draw.
However, 28 of the 50 Maxmillion prizes of $1 million were won. The majority were sold in Ontario, with 14 winning tickets. Another six were sold in the Prairies, five in Quebec, two in British Columbia and one in the Atlantic provinces.
The jackpot for the next draw FRIDAY will remain at an estimated $70 million, with 50 Maxmillion prizes of $1 million each once again up for grabs.
  TBL 2 – CAR 0

(TB 4-1)

VGK 3 – COL 2 OT  (LV 3-2)
White Sox 6  Blue Jays 1 Tigers 5  Mariners 3
 

Aaron Rodgers 

failed to show up

for Packers minicamp yesterday.  He can be fined $93,000 for missing it.  He also gave up a $500,000 bonus by not showing up for mandatory workouts.  This is the first time in his 16-year career that he's been a holdout.  (Here's Packers coach Matt LaFleur saying, quote, "It is what it is, man.  We'll focus and we'll control and work on the guys that are here and try to help them become the best to their ability and coach the heck out of them.")
 

Thousands of government, news and social media websites across the globe came back online Tuesday after getting hit by a widespread, hour-long outage linked to U.S.- based cloud company Fastly Inc.  High-traffic sites including Reddit, Amazon, CNN, PayPal, Spotify, Al Jazeera Media Network, and the New York Times 

went down

.  
  Brian Regan on playing outside when he was younger. 
RANDY TRAVIS TO RELEASE DELUXE ANNIVERSARY EDITION OF 'STORMS OF LIFE' ALBUM 
Randy Travis will celebrate the 35th anniversary of the release of his Storms of Life album with the release of a Deluxe Edition project on September 24th. The album will include remastered versions of all ten original tracks plus three unreleased songs found in the vault.
Storms of Life was the first of five consecutive No. 1 albums for Randy, which has gone on to sell more than 3 million copies.
Storms of Life was released in 1986 and includes the hits "On The Other Hand,"
"Diggin' Up Bones," and "No Place Like Home."
MAREN MORRIS, GABBY BARRETT BOW OUT OF CMT MUSIC AWARDS PERFORMANCE SLOTS 
Maren Morris and Gabby Barrett have pulled out of their performing slot on tonight's (Wednesday, June 9th) CMT Music Awards. Both broke the news to fans on social media, with Gabby citing "personal circumstances" and Maren stating a scheduling conflict, however Maren's post has since been deleted.
The two acts have since been replaced, according to Billboard. Ingrid Andress is now teaming up with Canadian pop star JP Saxe to perform "Line by Line," which JP and Maren released earlier this year, and Lindsey Ell will take Gabby's place in a performance with Lady A and Carly Pearce.
Maren and Gabby are both nominees at the show tonight, which airs at 8 p.m. ET and will be co-hosted by Kelsea Ballerini and Kane Brown.
_____________________________________________________________________________
MAREN MORRIS SAYS MORE DUETS WITH RYAN HURD ARE POSSIBLE 
Ryan Hurd and Maren Morris are climbing the charts together for the first time as recording artists and husband and wife with their duet, "Chasing After You." While this is the only time the two have released a single together, Maren tells us it likely won't be the last. ["Hopefully we do more of this. I mean, we've written so many songs together over the last eight years that I'm sure at some point again we'll do a duet. We already collaborate so often with each other on each other's solo projects so this is so nice for us because it's like we get to do interviews together now and promote something that we're both on so this is a first for us but hopefully not a last."] 
"Chasing After You" will be included on Ryan's upcoming project.
Maren is working on her next album, the followup to 2019's Girl.
_____________________________________________________________________________
GARTH BROOKS ADDS KANSAS CITY TO 'STADIUM TOUR' 
The Garth Brooks Stadium Tour has added a stop in Kansas City, MO on Saturday, August 7th at GEHA Field at Arrowhead Stadium. 
Garth's Stadium Tour is set to resume on July 10th in Las Vegas. With the addition of the Kansas City show, Garth will be performing five massive concerts in just six weeks once he returns to the road.
Garth tells us what it is he loves so much about these stadium shows: ["It's so much fun, man! You're just sitting back laughing and watching them as they go all night long like they're the only ones in the building. And it's fabulous. You can hear them singing out there, and you just want to get out of their way and just hear them sing, so it's a pretty sweet marriage, and the quicker that you get to that the quicker it becomes a party, and that's what you need to expect when you come to a Garth Brooks show."]