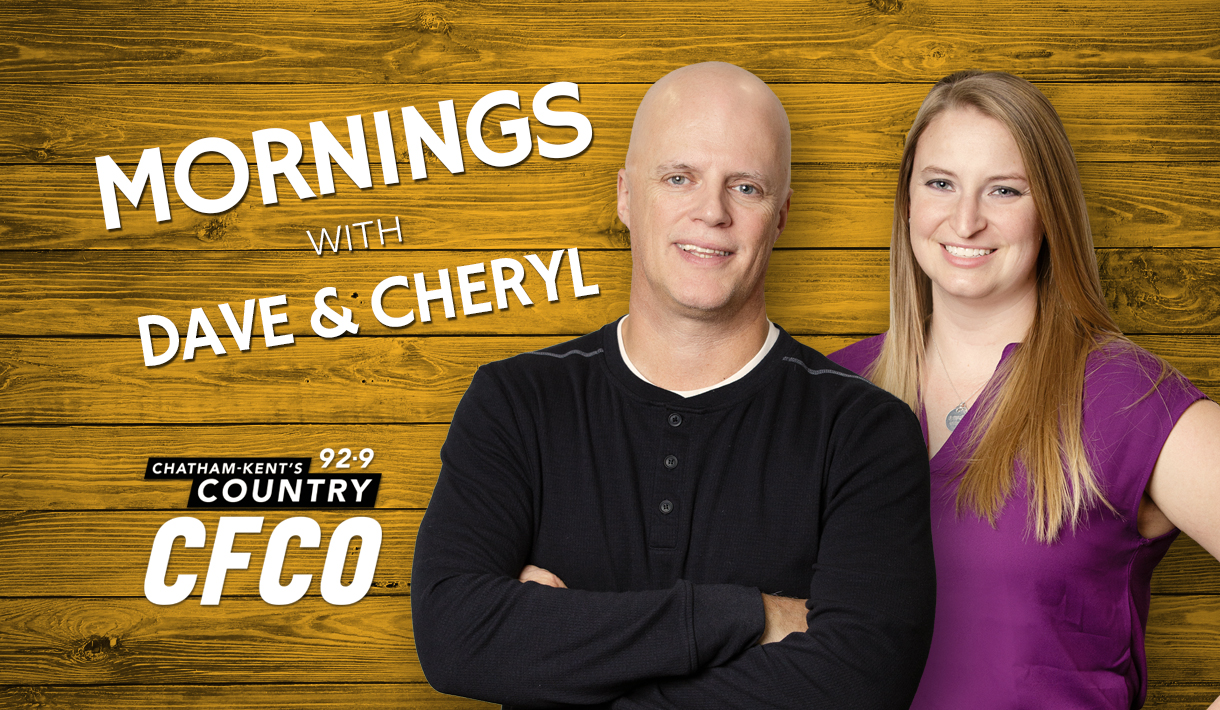 On Today's Show
➢ A farmer in Lodi Township, Michigan has been in a fight with his neighbor named Wayne Lambarth for the past year over where the property line is.
So the farmer just decided to make it clear where HE thinks the line is by building a 250-foot-long wall between the two yards.  A wall . . . made out of FECES.
The farmer took all the manure from his farm and stacked it into a wall on the property line.  And when Wayne complained, the guy said, quote, "It's not a poop wall, it's a compost fence." And the city says there's nothing they can do about it because the poop wall is technically on the farmer's property. 
➢ Internet service was down for about 900 customers in Tumbler Ridge, B.C., after a beaver chewed through a crucial fibre cable, causing "extensive" damage. In a statement, Telus spokesperson Liz Sauv wrote that in a "very bizarre and uniquely Canadian turn of events," crews found that a beaver chewed through the cable at multiple points, causing the internet to go down on Saturday at about 4 a.m. "Our team located a nearby dam, and it appears the beavers dug underground alongside the creek to reach our cable, which is buried about three feet underground and protected by a 4.5-inch thick conduit. The beavers first chewed through the conduit before chewing through the cable in multiple locations," the statement said.
➢ Five people have been busted for shooting LADY GAGA's dogwalker, and stealing two of her French Bulldogs . . . including the woman who later "found" the dogs.
According to police, three thieves targeted the dogwalker after seeing him with the dogs back in February.  They did NOT know they were Gaga's dogs . . . they just knew that French Bulldogs were worth a lot of money. The plan was to steal the dogs and sell them off for cash.
But when the story went viral, they tried to cash in on Gaga's $500,000 reward.  
They recruited a woman to be the "hero" who returned the dogs . . . BUT they chose someone closely connected to themselves.
She was the girlfriend of one of the men's fathers . . . and he must have been in on it too, because he was arrested as an accessory.  All four of the men, including the 40-year-old father, are allegedly "documented gang members."
The three thieves were between the ages of 18 and 27.  They're facing robbery and attempted murder charges.  Police believe the 18-year-old was the shooter.
➢ Jamie Foxx says he once used Snoop Dogg to intimidate a guy who was dating his daughter.
TODAY IS……………….
"Adopt a Shelter Pet Day", an annual event encouraging the adoption of strays. On a sadder note, the SPCA observes a moment of silence for the thousands of dogs and cats euthanized each year because they are unable to find homes.
2020 [01] On his 100th birthday, Captain Tom Moore hits #1 in the UK #1 with his version of 'You'll Never Walk Alone'. The decorated World War II vet had become famous by raising more than £28 million for coronavirus relief by walking 100 laps of his garden
_____________________________________________________________________________
COUNTRY MUSIC NOTE
Faith Hill's "Piece Of My Heart," a cover of the Janis Joplin hit, became her #1 in 1994.
_____________________________________________________________________________
Things to Look Forward to in May
Tomorrow is a new month!  Here are some things to look forward to in May . . .
A TON of sporting events are going down, including the Kentucky Derby tomorrow . . . the NBA Playoffs, which are scheduled to begin May 22nd  . . . the NHL's Stanley Cup Playoffs starting 

around

May 20th . . . and the Indianapolis 500 on May 30th.
On TV, there's the premiere of 

"Star Wars: The Bad Batch"

on Disney+ and Season 2 of 

"Selena: The Series"

 on Netflix, both on May 4th . . . and the 

"Vax Live: The Concert to Reunite the World"

 special will air on May 8th.
There's also the "MTV Movie & TV Awards" on May 16th . . . the "Billboard Music Awards" on May 23rd . . . and the "iHeartRadio Music Awards" on May 27th.
And finally the holidays.  The big ones are Cinco de Mayo next Wednesday . . . Mother's Day on Sunday the 9th . . . and Memorial Day on the 31st. 
There's also Star Wars Day on May the 4th . . . National No Pants Day on the 7th . . . National Pizza Party Day on the 21st . . . National Talk Like Yoda Day also on the 21st . . . and National Wine Day on the 25th.
____________________________________________________________________________________________
FOUR RANDOM FACTS 
 There are now about 1.71 billion websites . . . but only about 200 million are actually active.  The rest are mainly parked domains.
Emil Jannings

won Best Actor at the first Oscars in 1929 . . . but he actually came in second in the voting to Rin Tin Tin.  Yeah . . . the dog.  The Academy wanted to make sure people took them seriously, so they gave Jannings the Oscar.
The average height in the NBA has gone up about four inches since the league started in the late '40s.  It started at 6-foot-3, and now it's 6-foot-7.
"Sushi" means "sour rice" in Japanese . . . because the Japanese believed the most important ingredient is the rice, not the fish.
_____________________________________________________________________________________
GOOD NEWS 
The guitarist for a Florida rock band used his excellent hearing skills to find a guy who went missing this week.  Rescuers were looking for the guy in a wooded area, right next to the home of Randy Winter, who's in the band Red Jumpsuit Apparatus.  
He says playing and recording music for so long has forced him to hone his listening skills.  So he went outside . . . heard something that sounded like it could be a person . . . told the cops where it came from . . . and they found the guy. 
______________________________________________________________________________
BIRTHDAYS 
[62] Stephen Harper, (Canada's 22nd Prime Minister 2006-15)
[46] Johnny Galecki, actor ('Leonard Hofstadter' on "The Big Bang Theory")
[40] Kunal Nayyar, actor ('Raj Koothrappali' on "The Big Bang Theory" 2007-19)
[36] Gal Gadot, actress ("Wonder Woman" franchise)
SATURDAY- Tim McGraw ('Humble and Kind') is 54 
____________________________________________________________________________
SOME OF YOUR BEESWAX:
A beekeeper is begging homeowners NOT to mow the dandelions on their lawn…for the sake of bees. Roger Croll of the Halifax Honeybee Society backs up the comments of many on social media, who pointed out that dandelions are an important source of food for bees emerging after a long winter of hibernation. 
According to him, dandelions may not be the first choice for bees, "but there are so many dandelions right now that I see my bees coming in ladened with yellow pollen." 
Dandelions are most important to bees in spring because they are very hungry, and may have already gone through their stores of honey, according to beekeeper Tara LaPointe. So, if your lawn is crawling with dandelions, it's OK if you keep them for a while. The bees will thank you.
QUESTION…. WHAT KIND OF MOWER DO YOU HAVE? 
FRIDAY APRIL 30TH  
  TBL 3 – DAL 0

BOS 5 – BUF 2

NJD 5 – PHI 3

NYI 4 – NYR 0 
PIT 5 – WSH 4 OT CAR 3 – DET 1 TOR 4 – VAN 1 STL 5 – MIN 4 OT 
FLA 4 – CHI 3 OT CGY 3 – EDM 1
White Sox 3  Tigers 1 White Sox 11  Tigers 0
  How much time do you spend online?  According to a new study of British people… they will spend on average 22 years, one month and four days of their 

entire lives online

.  Breaking that down even further you spend around 59 hours, over two days, of your week online.
 

An Army captain in Virginia named Katie Hernandez 

broke

a world record for fastest mile while wearing a bomb suit.  They weigh about 75 pounds, so it's not easy.  She did it in 10 minutes 23 seconds.  The old record for women was just over 11 minutes.
  Today is the last day of April.  Ending the month on a Friday.  Comedian Brian Regan likes months like this.  (From his 2021 Netflix special, "On the Rocks".)
Today Is National Honesty Day . . . How Often Do You Lie?
Today is National Honesty Day.  And we're gonna celebrate it the right way:  With a survey where clearly a ton of people lied.  The survey asked people how often they tell lies. 
And the top answer is . . . NEVER.  27% of people say they never lie.  That is a lie.
18% of people say they lie once a year or less.  That's also a lie.  And another 18% say they lie a couple of times a month.
On the other end of things, 6% of people say they tell around one lie a day, and 6% say they tell a bunch of lies every day.
The survey also found 3% of people say they're compulsive liars. 
GABBY BARRETT IS TOP FEMALE NOMINEE AT BILLBOARD MUSIC AWARDS 
Gabby Barrett is the top female nominee across all genres at the upcoming Billboard Music Awards with a whopping nine to her name. In addition to several Country categories, she is also up for all-genre Top New Artist, Top Radio Song and Top Collaboration, among others. The Billboard Music Awards will air live on NBC on Sunday, May 23rd at 8 p.m. ET.
Carrie Underwood, Dan + Shay, Luke Combs, Maren Morris and Morgan Wallen are among the other BBMA nominees.
Top Country Artist
Gabby Barrett
Kane Brown
Luke Combs
Chris Stapleton
Morgan Wallen
Trisha Yearwood Lost Her Taste and Smell Because of Covid-19
TRISHA YEARWOOD was on "The Kelly Clarkson Show" talking about her recent battle with COVID-19.  You may remember she got it in February, but GARTH BROOKS didn't.  She was Covid Negative early last month.  But the after-effects are hanging around.  She still doesn't have her taste or smell, and that moment of realization came when she chewed out Garth for making her coffee too weak.  She told Kelly, quote, "It's so much about taste and smell and if you can't smell you don't really crave.  So now it's all about texture.  I can tell if something's spicy, but that's it.  I love to cook, so now if I cook I ask Garth if it needs more salt or pepper."
And . . . she gave Garth more props for staying by her side the whole time.  Quote, "I was like, 'You have to quarantine in another room, and he was like, 'No, we're in this together.'  I was like, 'I cannot give Garth Brooks COVID.'    "And he never did get it.  He had the vaccine and he didn't even have a sore arm.  He was really wonderful.  He was really great." 
THOMAS RHETT SAYS PANDEMIC HAD POSITIVE IMPACT ON NEW ALBUM 
Thomas Rhett says the pandemic is partially responsible for the content on his new album, Country Again: Side A, which sees release today (Friday, April 30th). He explains: ["Even though a lot of it was written in 2019, I think that it took 2020 and all of the hardship that came with it to kind of re-discover some stuff about my life, about myself, about being a husband, being a dad. I feel like when you're forced to stop doing what you think your identity is and you're kind of forced to live with yourself, at the core of you, you start to ask yourself a lot of questions. Who am I without a guitar? Who am I without a stage? And I think that I just kept being reminded that I am a dad, I'm a husband, I'm a friend. And I really started to just embrace more of those moments so much more, and I think a lot of these songs definitely would not have been written without this year."] 
Thomas will play a special livestream concert tonight at 8 p.m. ET called "Thomas Rhett One Night Only From Nashville." For tickets, visit thomasrhett.veeps.com.