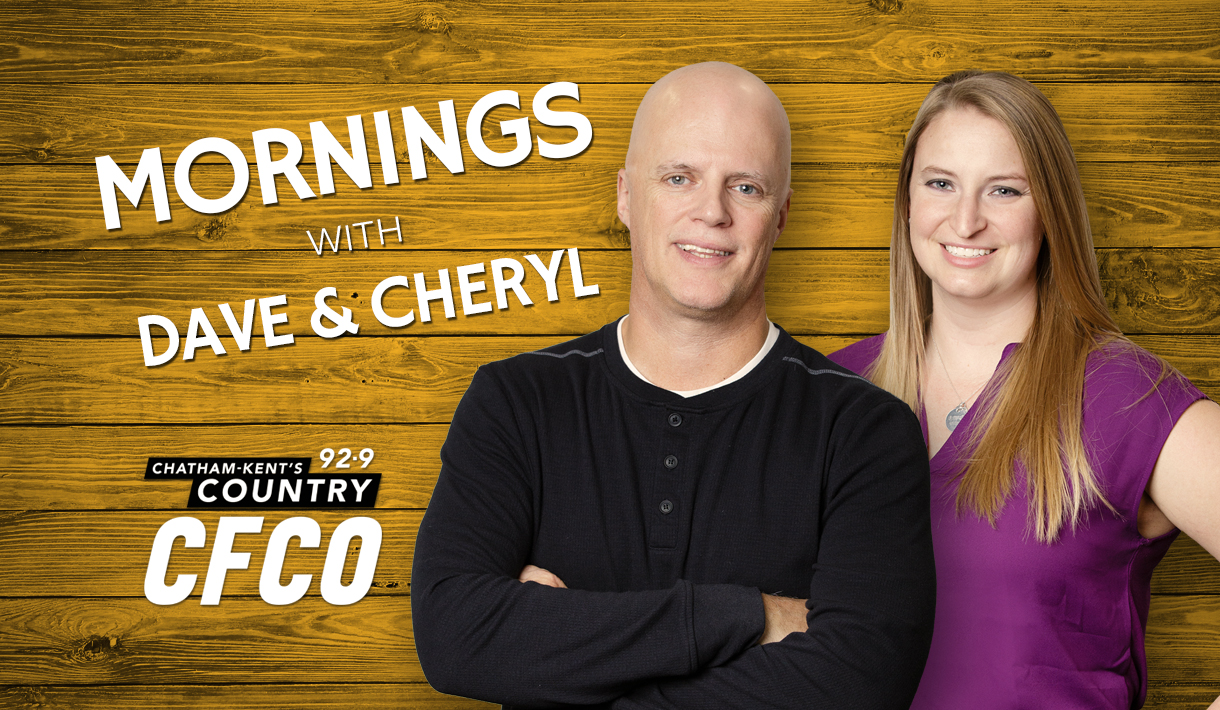 On Today's Show
➢ It's obviously not as bad as what is being seen in B.C. but if you're in SW Ontario, that weird yellowish haze in the sky is smoke from the fires on California and Oregon.  Mark Robinson from The Weather Network……
➢ A UK student who left his apartment window open before going away for five months found his home taken over by pigeons. Oluwageorge Johnson had to leave in a hurry in March, after his parents showed up to take him home, because of Covid-19, and he accidentally left a window open. Apparently, pigeons decided to make the apartment their home. No one disturbed the birds for over five months, until workers heard strange sounds and went in to investigate. They found the whole place covered in bird droppings, eggs in the kitchen sink and pigeon feathers everywhere. (I've had roommates who were worse!)
➢An 11-year-old in Virginia has raised a ton of money this summer selling lemonade . . . enough to buy over 22,000 diapers to give away to single moms.  He came up with the idea when he noticed stores running out of them when the pandemic hit.  A random mom recently pulled him aside to thank him for what he's doing, and got pretty emotional about it.
➢ Your childhood dreams have come true. Pillsbury has launched a new edible cookie dough across Canada, and it's completely safe to eat it raw. The stuff is made from heat-treated flour and pasteurized eggs, which means that it can be eaten straight from the tube. Oh, and you can also bake it. Pillsbury says that the new edible recipe tastes the same as their original stuff, and they plan to transition all of their cookie dough to the edible version by the end of the year.
➢ Beer giant Anheuser-Busch says it quickly sold out of its latest offering: a 'beer' for dogs. "Busch Dog Brew" is a bone broth made from pork, corn, celery, mint, turmeric and ginger. It contains no alcohol. The company says their Dog Brew, which was offered for sale online, and sold in traditional beer cans, is a way to provide dogs with a nutritious snack that helps to promote a healthy digestive system, and a way for dogs who struggle to eat solid food to get all of their nutrients.
➢Actor Neil Patrick Harris and his family contracted COVID-19 five months ago.  He says he initially thought he had the flu, but he later realized that it was the virus.
TODAY IS……………….
"Collect Rocks Day", a celebration of the hobby of gem & mineral collecting. (
"Guacamole Day", honoring the avocado, the tomato & onion treat that resembles baby poop.
Avocado Fun Facts:
⇒ Avocados mature on the tree, but only ripen once they are taken off the tree.
⇒ Although the plant dates as far back as 5,000 BC, prior to 1915, it was commonly referred to in California as 'ahuacate' and in Florida as 'alligator pear'.
⇒ On average, 53.5 million pounds of guacamole are eaten every Super Bowl Sunday, enough to cover a football field more than 20 feet thick.
1908 [112] Carriage-maker William C. Durant, founds General Motors in Flint, Michigan
_____________________________________________________________________________
COUNTRY MUSIC NOTE
1969  Johnny Cash was at #1 on the Billboard country singles chart with "A Boy Named Sue".
_____________________________________________________________________________
HONEY SHOULD BE THE GO-TO FOR EASING COUGHS, SCIENTISTS URGE
If you've got a cough go ahead and have some tea with honey.
University of Oxford researchers reviewed 14 studies and found that honey was more effective than usual care when it came to improving cough symptoms, particularly the frequency and severity of coughing.
Two of the studies suggested honey can actually cut cough symptoms short by between one and two days. As a result of the findings, the scientists are urging doctors to recommend honey as an alternative to antibiotics, which are often incorrectly prescribed for viral infections, despite only being effective against bacteria.
They add, "Honey is a frequently used lay remedy that is well known to patients. It is also cheap, easy to access and has limited harms."
FOUR RANDOM FACTS
Hostess made potato chips with orange, cherry, and grape flavors in the 1970s.  They failed miserably.
Superman lives in Metropolis, which everyone assumes is New York City.  But according to a former DC Comics editor, it's actually in . . . Delaware.
"Jurassic Park"is 127 minutes long.  But the dinosaurs are only on screen for a total of 15 minutes.
With enough training, an elephant can throw a baseball faster than a man can.
GOOD NEWS
Delivery people are already doing plenty.
But an Amazon driver in Massachusetts went out of his way to save a dog.
John Cassabria was delivering packages when he saw a dog drowning after it fell into its owner's pool.
So, he immediately dove in and saved its life.  He didn't even stop to take his phone out of his pocket.
______________________________________________________________________________
BIRTHDAYS
[64] David Copperfield, magician-illusionist
[56] Molly Shannon, Shaker actress ("Saturday Night Live" 1995-2010)/movie actress ("How the Grinch Stole Christmas")
[49] Amy Poehler, actress ("Parks & Recreation" 2009-14, "Saturday Night Live)
We've Watched 20 Movies and Four TV Shows Start-to-Finish This Summer
A new survey found the average American has watched 20 movies in the last two months, and binge-watched four ENTIRE television shows.
Here are a few more quick stats on our streaming habits this summer . . .
52% of us have watched more TV this summer than a normal summer.
People aged 25 to 34 saw the biggest uptick compared to spring.  They watched an average of four hours MORE each day compared to March and April.
47% of parents say their kids are watching more TV now than when the pandemic first started.  And a third have relied on it to keep their kids busy this summer.
One out of six people are currently sharing passwords with someone else.  And one in four have saved money by starting a "free trial" and cancelling before they got charged.
39% of us are currently struggling to find new content, because we've already watched so much stuff this year.
____________________________________________________________________________
STUDY: WE LOSE ABOUT 30 MINUTES OF SLEEP EACH NIGHT OF THE WORKING WEEK
Working isn't great for sleep, it turns out.
Stockholm University researchers find that people tend to get about 30 minutes less sleep than we would ideally need on each night of the working week.
The experts note that sleep deprivation as a result of work can continue for years, which is why the accumulated effects need to be considered. Part of the issue is that the majority of the population have a late "biological clock" which means they naturally prefer to go to sleep later and wake up later than those with an early biological clock.
Those with late clocks also tend to postpone their bedtimes, meaning getting plenty of sleep before getting up for work is not always easy.
WEDNESDAY SEPTEMBER 16TH  
NHL PLAYOFFS:
New York Islanders 2, Tampa Bay Lightning 1 (2OT) — Tampa Bay leads series 3 games to 2
The Denver Nuggets beat the L.A. Clippers 104-89 in the deciding Game 7 of their playoff series to advance to the Western Conference finals for the first time since 2009. Jamal Murray led Denver with 40 points. Denver became the first team in NBA history to rally from a 3-1 series twice in the same postseason, after doing it against the Utah Jazz in the first round. The Nuggets will face the L.A. Lakers in the conference finals.
NBA PLAYOFFS:
Conference Semifinals:
Denver Nuggets 104, L.A. Clippers 89 — Denver wins series 4 games to 3
Conference Finals:
Miami Heat 117, Boston Celtics 114 (OT) — Miami leads series 1 game to 0
A two-game series between the San Francisco Giants and Seattle Mariners that was supposed to start last night (September 15th) in Seattle was postponed because of poor air quality caused by the West Coast wildfires. The teams will now play the two games tonight and tomorrow afternoon at Oracle Park in San Francisco. The region has had unhealthy air quality because of the smoke for about a week.
"Jeopardy!" started airing again Monday, but they had to make a few adjustments due to COVID-19.  It's also great to see Alex Trebek back again.  Here he is, explaining the changes.
A student in an online class claimed she was late because she had to walk her chicken.  When the teacher tried to clarify, she showedher the live chicken.
Here's Ricky Gervais making fun of journalists who say he's too rich to relate to the rest of us.
ROBIN'S WISH……..
There's a new documentary about Robin Williams battle with Lewy body dementia called "Robin's Wish".  Robin's widow Susan likened his fight to being chased by "invisible monsters," because nobody knew what was causing his cognitive and motor issues until after he died.
KEITH URBAN ON ACM AWARDS HOSTING GIG: 'I DON'T ENTER IT FEARLESSLY'
Keith Urban is taking on the role of host for tonight's Academy of Country Music Awards for the very first time in his career. While he's got plenty of live TV experience, Keith tells us EXCLUSIVELY that he is more than a little nervous about the gig. ["Yes (laughs). Yes, completely. Completely. I don't enter it fearlessly. I enter it sort of facing my fear and just walking through it anyway, but I'm not a host. What do I know? I'm a guitar player, but I love bringing music into everybody's homes or wherever they're gonna be watching this from so I go at it with that spirit and that heart."]
Keith is also nominated for Male Artist of the Year, and will be performing live with pop star P!nk during the show. They are debuting their new duet called "One Too Many" off Keith's new album, The Speed of Now Part 1, which will be released on Friday (Sept. 18th).
The 55th annual ACM Awards will air live on CBS beginning at 8 p.m. ET.
Keith will give an Amazon Music global livestream performance on Friday, album release day, where he'll be playing some of the new songs from the album live for the first time beginning at 9 p.m. ET.
LUKE BRYAN SAYS ACM ENTERTAINER NOD IS 'WINNING' AT THIS POINT IN CAREER
Luke Bryan is one of this year's five nominees for Entertainer of the Year at tonight's (Wednesday, Sept. 16th) ACM Awards. He's taken home the title twice, but Luke says that these days he's satisfied with the nomination.
He tells us he's also hopeful that the honor of Entertainer will perhaps go to someone tonight for the very first time. ["The nomination for me is at this point in the game is winning for me. If I can get nominated in that category, from then on I can honestly say if I don't win, well then I'm interested in who did win, and is it somebody that's won before or is it somebody that's never won before but they were very, very deserving to win."]
Luke will be part of the ACM's opening performance of Entertainer nominees as they do a medley of their biggest hits.
The Academy of Country Music Awards will air live from Nashville on CBS beginning at 8 p.m. ET.
Jay Demarcus's Advice on How "Not" to Suck in Country Music
Somebody asked JAY DEMARCUS if he has any career advice for artists trying to make it in Nashville.  He started it off by saying, quote, "I think the best piece of advice that you could give anybody is don't suck."
That sounds like he didn't take the question seriously, but he did.
He added that you should always be true to yourself.  If you follow trends because that's what everyone else is doing, then you won't have your own identity and your music will suck.
His other advice is don't be afraid to collaborate with someone outside of your comfort zone.  You'll learn from that too.  But more than anything, work your tail off.
Quote, "Just constantly learning and constantly trying to be the best you can be at what you do specifically, I think is the best thing in the world that you can do as an artist."