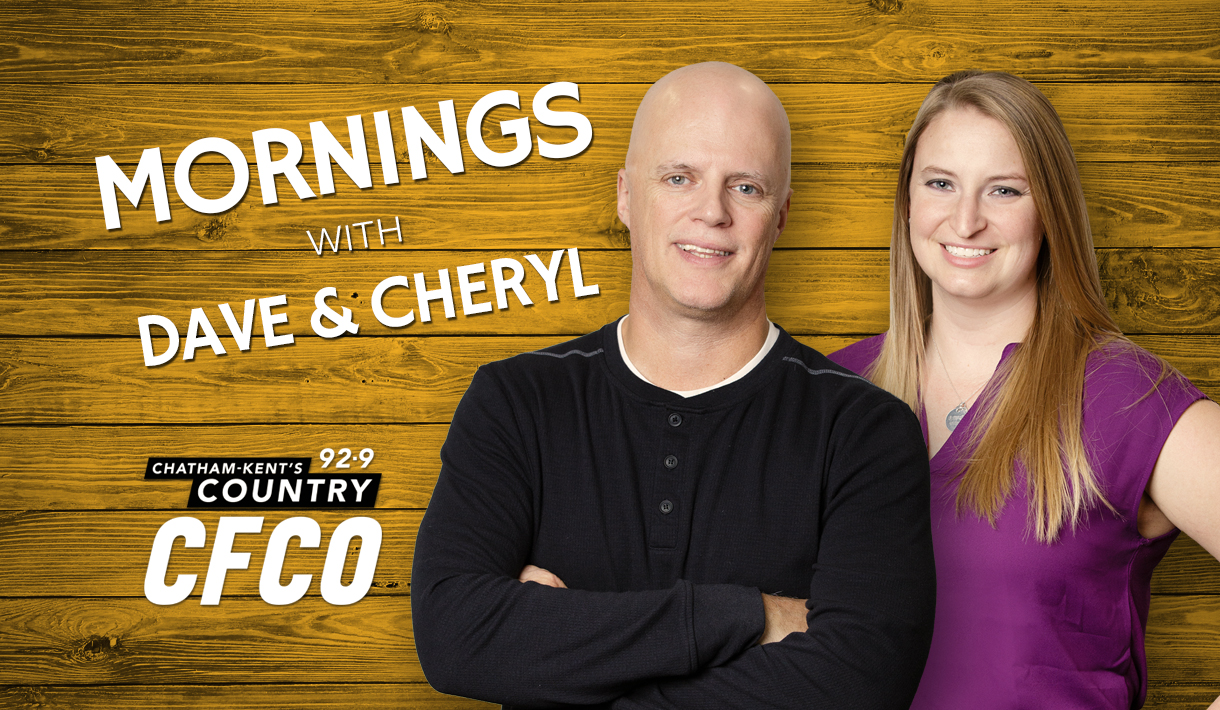 On Today's Show
➢ A 24-year-old woman in Ohio recently reached into the drive-thru at McDonald's, attacked a worker, and spit on them . . . all because she didn't get the cookie she ordered.  She says the fact that she'd been drinking played a role.  But she was in court on Wednesday, and the judge didn't let her off the hook.  He sentenced her to three months in jail, and gave her a pretty firm talking to.
➢ A postcard that was sent 100 years ago, was just delivered to a woman in Belding, Michigan on Tuesday (September 8th). When Brittany Keech checked her mail earlier this week, she found a Halloween postcard was postmarked in 1920.  Keech shared the card with her town's Facebook group hoping to find the family of the intended recipient.  However, the USPS told a local reporter that it may not be a case of lost mail.  A spokesperson said, "What we typically find is that old letters and postcards – sometimes purchased at flea markets, antique shops and even online – are re-entered into our system. The end result is what we do best – as long as there is a deliverable address and postage, the card or letter gets delivered."
➢ A judge in Houston had a family evicted last week.  So the cops who had to kick them out started a GoFundMe page to help them, along with other families in the same situation.  And people have donated HUNDREDS OF THOUSANDS of dollars already.  The Dad did a follow-up interview and got pretty emotional about it.
➢ A guy filmed a freight train's roof as it's being peeled away while passing under a low clearance bridge. Several train cars get their's peeled off, many of them transporting cars that get badly damaged.  There is more than $2 million dollars damage.
➢The show "Cobra Kai" is streaming now on NETFLIX and Ralph Macchio revealed something about the original Karate Kid. The producers of didn't want Pat Morita to play Mr. Miyagi, because they just thought of him as Arnold from "Happy Days".  But Ralph Macchio is glad he was cast, because they gelled right away.
TODAY IS……………….
"Google.com Day", founded on September 4th 1997, however, it became a domain officially on this day 23 years ago.
"Greenpeace Day", honoring the 1971 founding of the now internationally renowned environmental organization. A group of 17 activists initially formed in Vancouver BC to protest offshore nuclear testing in Alaska.
1954 [66] The famous photo of screen siren Marilyn Monroe, laughing as her skirt is blown up by the blast from a subway vent, is shot during the filming of "The Seven Year Itch" (it infuriates her husband, Joe DiMaggio, and they divorce shortly afterward)
_____________________________________________________________________________
COUNTRY MUSIC NOTE
Toby Keith's single "I'm Just Talkin' About Tonight" hit Number One in 2001.
_____________________________________________________________________________
FOUR RANDOM FACTS
There's a tale that a runner from Oregon named Forrest Smithson won the 110-meter hurdles at the 1908 Olympics while carrying a Bible in his hand.  But there aren't any official reports that confirm it, and he may have just posed with the Bible in his hand AFTER the race.
Every British king or queen has a second birthday assigned to them if their real birthday isn't in the summer . . . so there's good weather for their birthday parade.
Like, Queen Elizabeth the Second's real birthday is April 21st, but her "official" birthday is held on a Saturday in June.
The word "oxymoron" is actually an oxymoron.  It's the combination of two Greek words:  Oxy, meaning sharp and keen . . . and moron, meaning dull and stupid.
Pez candies get their name from the German word Pfefferminz, which means peppermint . . . since that was the original flavor.
GOOD NEWS
A small team of rock climbers helped a friend with muscular dystrophy scale part of El Capitan in Yosemite recently.
They'd been planning some large-group climbs this summer, but cancelled them because of the pandemic.
Then they realized it would only take four people to help him climb El Cap.  So they did that instead.
______________________________________________________________________________
BIRTHDAYS
[74] Oliver Stone, movie director-producer-screenwriter with 3 Academy Awards ("Platoon", "Born On the Fourth of July", "Midnight Express")
[74] Tommy Lee Jones,
[43] Tom Hardy, actor
[36] Prince Harry, British royal (Duke of Sussex)/who's currently sixth in line to the throne
AUSTRALIAN MAN SHOCKED WHEN MASSIVE SNAKES FALL THROUGH HIS CEILING
Add this to the list of reasons to avoid Australia. A man was in his Brisbane home on Monday (August 31s) when two carpet snakes tumbled out of his kitchen ceiling and onto the floor where they slivered away to the bedroom and living room. The snake catcher says the snakes were large—one was just over nine feet long, and the other was just over eight feet long—and appeared to be two males fighting over a female snake. The third snake hasn't been found yet. The home owner says he's seen snakes around his property previously, but none that big, and never inside the house. Experts say as warmer weather approaches, Australians should be prepared for more snake sightings as they come out of hibernation.
Raymond Hoser from Melbourne, Australia has been catching snakes professionally since the 1970s and says he's about to be busier than ever.
"Because people are at home and they're not out and about … we've got a perfect storm where people will see more snakes," he said.
He's already getting more called and expects it to be peaking at 20-30 call-outs a day by October.
Most snakes in Melbourne are deadly so Hoser urges caution.
"Without treatment you're likely to die. With treatment you probably won't die."
A four-foot python clamped onto a Thai teenager's privates while he was on the toilet. The incident occurred Tuesday (September 9th), approximately 12 miles north of Bangkok while 18-year-od Siraphob Masukarat was watching smartphone videos on the toilet.  The university student suddenly felt a searing pain and looked down to see the snake's jaws clamped on  him.  The teen stood up, with the snake still attached, and slammed the door on the reptile, causing it to release its grip.  EMTs were able to stich up and sterilize the minor wound and the snake was released into the wild.
____________________________________________________________________________
People Were Doing Their Own Dentistry During Lockdown
Lockdown restrictions in the UK were so strict that people were resorting to DIY dentistry.
A poll, carried out by the Association of Dental Groups found that a quarter of households had someone who attempted to do at least one kind of home dental procedure.
In fact, a whopping 7.6 percent of people actually tried to extract their own tooth.
An expert told The Sun that pulling you own tooth usually does more harm than good by allowing harmful bacteria into the bloodstream and increasing the likelihood of future cavities and infections.
TUESDAY SEPTEMBER 15TH  
The Pittsburgh Steelers and Tennessee Titans were the winners last night (September 14th) in the first Monday Night Football games of the new NFL season. After missing the last 14 games of last season following elbow surgery, quarterback Ben Roethlisbergerled the Steelers to a 26-16 win over the New York Giants at the Giants' MetLife Stadium.
In Denver, the Titans topped the Broncos 16-14. Stephen Gostkowski kicked the winning 25-yard field goal for Tennessee with 17 seconds left, after missing four kicks in the game.
The Dallas Stars are heading to the Stanley Cup Final for the first time in 20 years after beating the Vegas Golden Knight 3-2 in overtime last night (September 14th) to win the Western Conference championship 4 games to 1. Denis Gurianov scored the winning OT goal. They'll face the winner of the Eastern Conference final between the Tampa Bay Lightning and New York Islanders, which Tampa Bay is leading 3 games to 1.
Carole Baskin made her debut on "Dancing with the Stars" last night.  And the family of her presumably dead husband Don Lewis ran an adduring the show, offering a $100,000 reward for information on his disappearance.
A 20-year-old college kid in Vermont named Elliot Ryan hasbeen quarantining with his grandparents this summer.  And they let him build a roller coaster in their backyard.  It's something he always talked about doing as a kid, so they said go for it.  His 83-year-old grandfather got to be the first to ride it.
Do you know your best friend's phone number by heart?  Here's comedian Joe Larson talking about how dependent we are on our phones.  (He ends with a great classic hit reference.)
CHANGES FOR THE PARADE
For the first time in its existence, the Macy's Thanksgiving Day Parade is going to be TV-only . . . there will still be balloons, floats, and performers, but they won't walk through the streets and there are no spectators allowed.
For almost 100 years now, the parade has marched through the heart of Midtown New York, right up to Macy's  This year, the parade won't go down the normal 2.5 mile route from the Upper West Side. Instead, performances will contained in a small area in Herald Square for TV cameras only – there will be no live spectators. The events will happen over a two day period.
Among the other changes:  About 75% fewer participants.  The event will instead be stretched out over two days  No one under the age of 18 will be allowed to take part, meaning no regional high school or college marching bands
As for the balloons, they'll be rolled through the streets on cars, so no handlers holding them down.
More Early Winners and Details About Tomorrow Night's ACMs
The ACMs don't want you to forget they're doing a show tomorrow night.  They announced additional details about who will be performing . . . and they handed out more early awards.
The Video of the Year winner is THOMAS RHETT's "Remember You Young".  He could end up having a huge night.  He's also up Entertainer of the Year, Male Artist of the Year . . . and Album of the Year for "Center Point Road".
The winners for Vocal Event of the Year are Miranda Lambert, Maren Morris, Ashley McBryde, Tenille Townes, Caylee Hammack, and Elle King for their remake of the '70s classic "Fooled Around And Fell In Love".
That's Tenille Townes' second ACM award this year.  She was named New Female Artist of the Year last month.  It's ALSO Miranda Lambert's 35th ACM win, which makes her the most-awarded ACM artist of all time.
There will be tons of performances, but the first one of the night might be the best.  Each Entertainer of the Year nominee will do a medley of their own hits.  That's Carrie Underwood, Eric Church, Luke Combs, Luke Bryan, and Thomas Rhett.
You may already know that performances will be taking place at three different Nashville locations because of safety protocols.  Here's KEITH URBAN with some details.
Quote, "I'm gonna be hosting from the Grand Ole Opry, but [we] over to the infamous Bluebird Café and doing some performances over there too."
___________________________________________________________________________________  
THOMAS RHETT, JON PARDI MIGHT BRING SOME CHOREOGRAPHY TO ACM PERFORMANCE –
Thomas Rhett is a multiple nominee heading into tomorrow night's (Wednesday, Sept. 16th) ACM Awards, in addition to performing live during the broadcast from the Grand Ole Opry House in Nashville with his friend Jon Pardi. The two will take on their recent chart-topping hit "Beer Can't Fix," and as Thomas tells us, anything can happen. ["So, me and Jon Pardi have yet to play "Beer Can't Fix" on national television, so me and Jon are gonna link up and play "Beer Can't Fix" together. I think we're just gonna go in and rehearse for an hour or so, and then try to just get out there and do it.  That's kinda me and Jon's style, too.  We don't really practice much together.  It's just kind of like whatever happens ends up happening.  I'm really lookin' forward to gettin' to hang out with my good buddy, Jon, and It should be really exciting, and Jon brought a little choreography bit so, we might be dancin' up there. It might be really fun."]
LAUREN ALAINA RELEASES NEW EP
Lauren Alaina has released her new EP called Getting Over Him. She co-wrote all the songs and tells us how she decided on the title: ["The first EP was Getting Good, and then I was trying to name this EP. Most of the songs are about getting over him. It felt like the overall theme of this EP was 'getting over him' and how I did that. Even the ones that are love songs now, or… like "Seeing You In Your Hometown" is about a newer love and how you feel about that. Well, that was part of getting over him, so it kind of just made sense. All of them just made sense. My little break-up."]