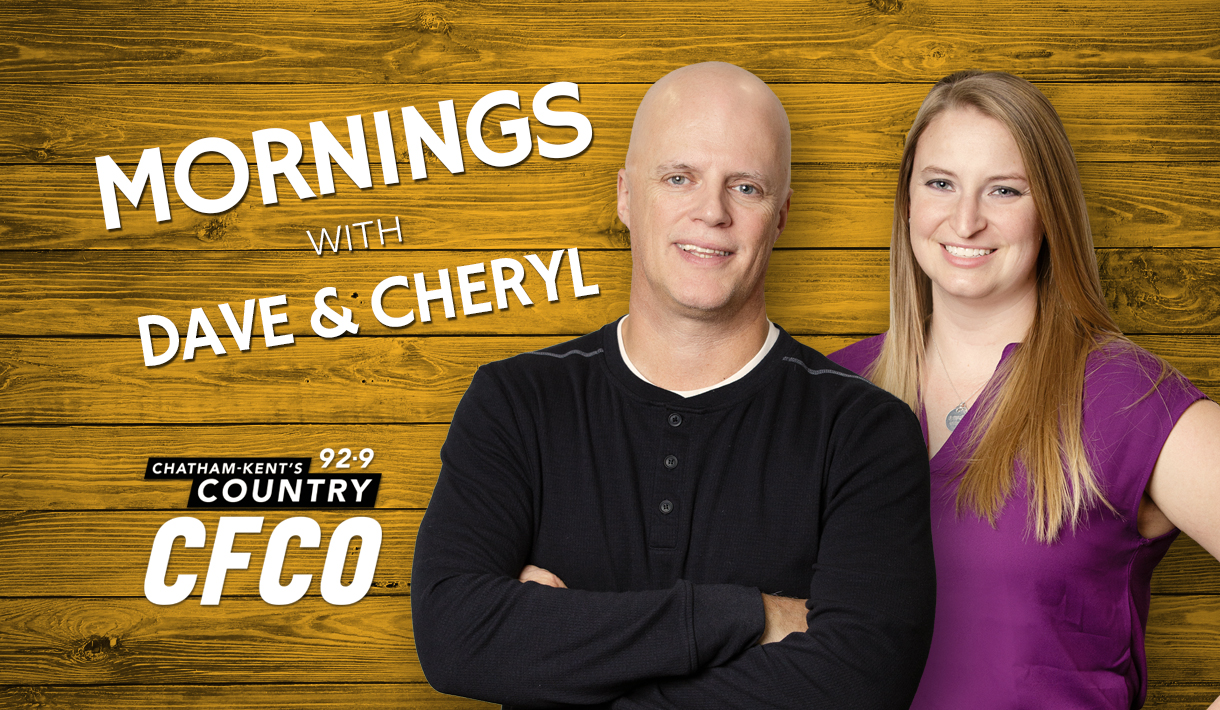 On Today's Show
➢ There's a 19-year-old woman named Madison Kohout.  And she recently moved from Oklahoma to Arkansas after she found a place online that was just $350-a-month for a two-bedroom.  She rented it sight unseen and moved.
But after she was moved in . . . she realized she'd rented a room in a RETIREMENT HOME.
Quote, "A week later, I saw the sign reading 'Senior Citizen Apartments.'  I realized I accidentally moved into a retirement village."
But believe it or not . . . she says it's actually going WELL.  She's started making friends with her neighbors and, quote, "I've never had so many home-cooked meals in my life."
Madison is documenting her new sitcom life on TikTok if you want to follow along. 
➢ A 12-year-old in North Carolina named Mike Wimmer is about to graduate from high school and college in the same week.  He's the valedictorian of his high school, which has its graduation on May 21st.  And he'll get his associate's degree from a community college on May 28th.  He's planning to go into robotics.
➢ Here's a reminder to double check your work before you have something permanently written on your body.
A 24-year-old woman named Bri Pritchett took a trip to Sedona, Arizona to celebrate getting fully vaccinated last month . . . and she wanted to celebrate by getting the latitude and longitude coordinates of Sedona tattooed on her shoulder.
BUT . . . she accidentally mixed up north and south.  So now she has a tattoo for a random spot in the South Pacific Ocean.  She says |It's an easy fix if I want to go that route, but I might just keep it because it's just as funny this way." 
➢ Fox is developing a "Flintstones" show, which is described as a "sequel" series.
It's called "Bedrock", and it will be a primetime animated show targeted at ADULTS.
The show will follow the Flintstone family two decades after the original, with Fred retiring and Pebbles now in her 20s, embarking on her own career.
ELIZABETH BANKS from "The Hunger Games" is onboard as a producer.  She'll also provide the voice of Pebbles.  No other casting has been announced.
The original show ran for six seasons on ABC . . . and it was the first animated series to air in primetime.
TODAY IS……………….
"Intergalactic Star Wars Day", an unofficial holiday celebrating the Star Wars media franchise. Why today? Because of the painful pun: "May the 4th be with you" (ouch!). Even though the holiday was not created by Lucasfilm, it has been embraced by Lucasfilm and parent company Disney as an annual celebration of Star Wars. 
"International Firefighters' Day", to recognize the efforts of those brave hearts who risk their lives to keep us safe. LINK:

http://www.firefightersday.org
1968 [53] The first McDonald's 'Big Mac' is served (2 all-beef patties, special sauce, lettuce, cheese, pickles, onions, on a sesame seed bun) in Uniontown, PA. Price: 45 cents
_____________________________________________________________________________
COUNTRY MUSIC NOTE
Tim McGraw's A Place In The Sun was released in 1999
_____________________________________________________________________________
UP AND AT 'EM:
☞ A new study suggests that your career may benefit from your starting the day with a decent breakfast. The survey of 2,000 people — 1,000 breakfast eaters and 1,000 who don't eat breakfast — found that those who have a morning meal are more likely to receive a promotion at work. 65% of breakfast eaters say they have moved up in a position over the course of their career. Only 38% respondents who didn't eat breakfast could say the same. 
☞ A new study says that a shot of caffeine before an afternoon sweat session may help you maximize the benefits of working out. Researchers from the University of Granada say having caffeine 30 minutes before exercising in the afternoon increases the body's ability to burn fat. They determined that about 3 mg/kg of caffeine (the amount in a strong coffee) is enough to significantly jumpstart fat-burning during aerobic exercise. 
_____________________________________________________________________________
FOUR RANDOM FACTS 
There are 18 fictional characters with stars on the Hollywood Walk of Fame.  The most recent are Alvin and the Chipmunks, who got their star in 2019 . . . Mickey Mouse was first, in 1978.
The U.S. has the highest drinking age in North or South America.  The next closest is Paraguay, at 20.
The United States military has a MAXIMUM height cutoff.  No one over 6-foot-8 can enlist.
Elephants have more genes related to smell than any other animal.  They have five times more scent genes than humans . . . and twice as many as dogs.
______________________________________________________________________________________
GOOD NEWS 
A kid in Kentucky named Walker Smallwood was a promising pitcher until he got diagnosed with bone cancer in his leg at 15 and couldn't play baseball anymore.  
The best news is that three years later, he's in remission.  
But even though he'll never make the big leagues now, he wanted to pitch one last time.  
So earlier this month, his coach let him start his first varsity game and planned to let him face a few batters.  
And instead . . . he threw a complete game no-hitter.
______________________________________________________________________________
BIRTHDAYS 
[62] Randy Travis, country singer 
[51] Will Arnett, Toronto ON, actor ("Arrested Development" 2003-06, 2013)
______________________________________________________________________________________
SCIENCE NEWS
Steak-umms

. . . yes, the sandwich meat brand . . . called out 

NEIL DEGRASSE TYSON

 on Twitter for misrepresenting science.  And the crazy thing is, they were right.
Neil said, quote, "The good thing about science is that it's TRUE whether or not you believe it."  And Steak-umms responded with, "Log off, bro."  So people thought they were being rude, or even ANTI-science.  But then they correctly explained that science itself isn't "true."  It's an "ever-refining process to FIND truth."
Researchers in Germany found 

gorillas pound their chests

to AVOID a fight, not start one.  They do it to show how big and tough they are, so other gorillas will back off.
Experts in Israel found that some ancient 

cave paintings

may have been inspired by hallucinations caused by a lack of oxygen, because caves have bad circulation.
Researchers in Egypt unearthed an 

ancient city

that's been buried in sand for 3,000 years.  They say it's one of the biggest discoveries since King Tut in 1922.
Elon Musk recently said that his Neuralink company could be ready to start 

implanting

computer chips in people's brains later this year.  But that might not be all they're cooking up.  Neuralink co-founder Max Hodak 

said

, quote, "We could probably build Jurassic Park if we wanted to."  He added, quote, "[It] wouldn't be genetically authentic dinosaurs but maybe 15 years of breeding and engineering to get super exotic novel species." 
Here's a clip from the lunch scene where Jeff Goldblum's character tells the scientists they were more worried about if they "could," not if they "should".  
____________________________________________________________________________
A DIFFERENT 'SCHOOL' OF THOUGHT:
After a year of remote learning and socially-distanced classrooms, a school in Spain is introducing "school on a beach" to combine clear air and a new way of teaching. 
Mask-wearing children can be seen sitting in front of a portable blackboard in rows of neatly spaced desks — on the sandy shores of Playa de los Nietos (Grandchildren's Beach). It's part of a project known as "Fresh Air", which aims to create better air quality for children during the pandemic, including through open-air learning. 
Eight classes take part in 20-minute lessons and groups rotate through the different areas. Children at the school are ages 3-12 and remain in their class bubbles. A teacher reports that not only are the beach classes safe for kids, they have fun, and "what they learn here, they don't forget". There have been no reported cases of coronavirus so far.
TUESDAY MAY 4TH  
  FLA 5 – DAL 4 OT

BUF 4 – NYI 2

BOS 3 – NJD 0

WSH 6 – NYR 3 
PHI 7 – PIT 2 CAR 5 – CHI 2 NSH 4 – CBJ 3 OT MTL 3 – TOR 2 OT 
OTT 2 – WPG 1 STL 3 – ANA 1 MIN 6 – VGK 5 EDM 5 – VAN 2 
LAK 3 – ARI 2 COL 5 – SJS 4 OT
A's 5  Blue Jays 4 Tigers were off 
 

There's a woman from Las Vegas who gives insider tips on TikTok for people planning to visit.  Listen to a couple of highlights, here.  (We took tips from two different posts.  Here's 

one

where she talks about the difference between The Strip and Downtown Vegas.  Here's a second 

clip

where she "reveals" that prostitution is illegal in Las Vegas, but not in surrounding areas . . . and those places might even pick you up for free.)
  Someone in Arizona 

stole

a four-year-old's John Deere Power Wheel, so cops surprised him with a new one.  The officer who took the lead on it got a little choked up when they showed it to him.
  Jerry Seinfeld has absolutely NO skill when it comes to horseback riding.
Bill and Melinda Gates Are Getting Divorced
First it was Jeff and MacKenzie Bezos, and now BILL and MELINDA GATES are getting divorced . . . after 27 years of marriage.
They issued a statement saying, quote, "We no longer believe we can grow together as a couple in this next phase of our lives."
They added that they will continue to work together at the Bill and Melinda Gates foundation, which helps people all over the world to, quote, "lead healthy, productive lives."  The charity was founded in 2000, and is now worth over $40 billion.
Bill and Melinda got married in Hawaii on January 1st, 1994.  He's 65, she's 56.  They have three kids . . . a 21-year-old son and two daughters, ages 18 and 25.
Bill is worth around $137 BILLION.  They never had a prenup, but Belinda's divorce petition says they've already come to a "separation agreement" . . . and she will not need spousal support.
ERIC CHURCH'S 'SOUL' ALBUM REPLACES 'HEART' AT TOP OF ALBUM SALES CHART – 
The Soul album of Eric Church's new triple album Heart & Soul takes over at Number One on the all-genre Billboard Top Album Sales chart. He replaces himself in the top spot as Heart debuted there last week. Eric also continues to occupy three of the Top 10 spots with Heart at Number Nine, the fan-club exclusive & at Number Three and Soul at Number One.
In addition, Eric sits atop the all-genre Billboard Artist 100 chart while also becoming the first country artist to simultaneously occupy the top two spots on the Billboard Vinyl Albums chart since its inception in 2011.
Eric had no set intention on creating three separate albums when he headed to North Carolina with a handful of songwriters to write for this project. He tells us that in the end it just seemed to make sense. ["I didn't go in there trying to make two albums or three albums. What I found when I listened back to the project is there were a lot of songs that had heart in them or cars or guitars or music, and I think that's because that's what was on my mind at the time, and then the thought was raised — do they belong together and that's the first time that three albums came out."] 
Eric will hit the road this fall to perform some of his new material on The Gather Again Tour. 
____________________________________________________________________________
Thomas Rhett on the Time He Had Mono, but Toby Keith Told Him to Man-Up and Perform 
If this isn't the perfect example of "the show must go on," nothing is.  In a recent interview, THOMAS RHETT talked about opening for TOBY KEITH back when he was a 21-year-old newbie.  It was his first tour, but he was really sick.
He finally went to the doctor and found out he had tonsillitis that was caused by mononucleosis.  So he told Toby he couldn't do the show that night, and was promptly taken to school.
Here's Thomas telling the story.  Quote, "I notice he's holding his stomach.  I was like, 'Toby, I'm not going to be able to play tonight, man.  I'm too sick, I can't sing.' 
"[And] in a round-about way of using some other language, Toby said, 'Well, it's alright man, I had my gallbladder taken out early today so if you want to be a pansy about it, be my guest.'
"Needless to say I went out there and played the show and threw my guts up the whole night." 
 _____________________________________________________________________________
TRACE ADKINS WORKING ON 13TH STUDIO ALBUM 
As he approaches the 25th anniversary of his first album, Still Dreamin' Out Loud, 
Trace Adkins is back in the studio readying his 13th LP.
The album's debut single is called "Heartbreak Song." Trace added, "'Heartbreak Song' is a song I've had in my back pocket for a few years . . ."
Trace's last project, Ain't That Kind of Cowboy, was released in October of last year.