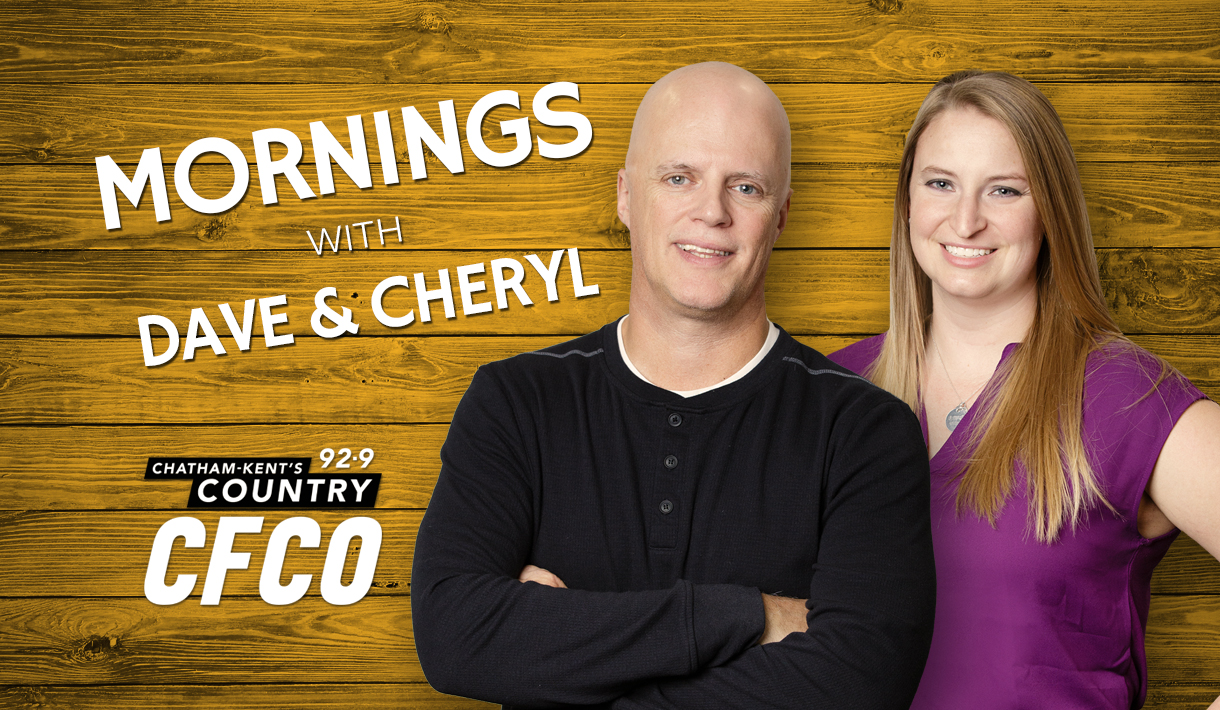 On Today's Show
➢ A 13-year-old girl near Detroit named Sidney Hertzberg won an essay contest put on by Petco that came with a $50,000 grand prize.  And she's donating all of it to her local cat shelter.
➢ A polar vortex could hit Canadians as soon as next week, according to Environment Canada senior climatologist Dave Phillips.
He said Manitoba and all points east will likely start to feel the effects of the vortex next week, with overnight lows that could fall between -15 C and -20 C. By the following week, he said, the vortex may also be gripping the three westernmost provinces, bringing overnight temperatures as low as -30 C.  Phillips is not yet certain that the vortex will fall over Canada, although he describes it as likely. It's also possible that it instead puts pressure on the other side of the world, chilling northern parts of Europe and Asia.
If the big chill does come, Phillips said, it might not be as intense as in some past years and he expects that it will only last a couple of weeks but the rest of the Winter will be colder.
➢ This is one way to bring attention to something in a positive way. People in a neighborhood of Shefford, U.K., say a silver VW Golf has been parked in the same spot on George Street since December 2019 and has become an eyesore. One of the car's tires is now flat, and the inside of the car is full of litter. Residents have reported the car on several occasions to various local authorities, but nothing was done. So last month, when the silver car had been parked there for a year, they threw the car a birthday party. They covered the car in party decorations, including happy birthday banners, balloons tied to the wing mirrors, and a white sheet taped across the windshield reading "Happy one year!" The hope is that drawing attention to the car will lead to something being done about it.
➢ Some people are attempting to break pandemic rules in any possible way they can think of. Those living in Quebec must adhere to a four-week-long curfew. This means they must stay inside their homes from 8:00 p.m. until 5 a.m. the following morning, but there are some exceptions. Essential workers who need to travel will be allowed to be out past curfew, as well as people who need to walk their dogs. On Saturday evening (January 9th) a woman reportedly was fined after being stopped  in Sherbrooke where she walked her boyfriend on a leash. The woman told police she was just "walking her dog" and police added she was uncooperative.
➢ WILMER VALDERRAMA bought the station wagon from "That '70s Show".
On the "Kelly Clarkson Show", he said, quote, "We were in the last season, and I went straight to the props department and I go, 'Listen, how much for the Vista Cruiser?' . . . They said 500 bucks, so I bought [it].
"Honestly, it's the best thing I've ever acquired for my whole career.  When I look at that car, it reminds me of when I was 17, 18 years old, booking 'That '70s Show' and doing that opening sequence where we're just driving."
TODAY IS……………….
"National Clean-Off-Your-Desk-Day", to provide a yearly opportunity for seeing the top of your desk.
_____________________________________________________________________________
COUNTRY MUSIC NOTE
Johnny Cash recorded the live album Johnny Cash at Folsom Prison in 1968.
_____________________________________________________________________________
MAKING A DIFFERENCE
When the coronavirus pandemic first hit, nursing homes scrambled to protect their vulnerable residents. They shut their doors and banned visitors, leaving seniors isolated from the outside world.
It was only March, but 16-year-old Hita Gupta suspected that life wouldn't return to normal for a long time. To support lonely seniors and remind them of how much they're loved, she began delivering care packages to nursing homes in her town of Paoli, Pennsylvania.
The teenager's efforts are a part of her non-profit organization Brighten A Day, which she launched in 2018 to "spread joy to seniors, children in the hospital, and frontline workers."
With the help of her 10-year-old brother, Divit Gupta, she has sent out almost 100,000 handwritten cards and packages — complete with puzzles, coloring books, and colored pencils — to nursing homes in countries including Ireland, Australia, and Canada.
"The response has been so incredible," Hita said. "A lot of the seniors cry when they open the packages and read our notes. It's changing people's lives at a time when they need it the most."
Many of the notes are written by Brighten A Day volunteers, who also make videos where they tell jokes, play music, read poetry, or sing. The pair and their volunteers call the seniors to make sure they have someone to talk to.
Hita and her brother also have donated more than 200 tablets, phones, and laptops so residents of nursing homes can communicate with loved ones.
"My message to other kids my age is to be kind to others, help out in the community, and that you can make a difference, no matter how old you are."
FOUR RANDOM FACTS
The British pound is the oldest currency that's still in use.  It was established 1,200 years ago.
Chris Rock was offered the part of George on "Seinfeld", but he turned it down.
Benjamin Harrisonwas elected president in 1888, and was the first U.S. president to have electricity in the White House.  But he never touched the light switches because he was afraid of getting electrocuted.
Cats can actually survive drinking ocean water.  Their kidneys can filter out the salt and use the water for hydration . . . our kidneys can't.
____________________________________________________________________________
GOOD NEWS
Another "2021" tip is in the news.
Someone walked into a smoothie place in Florida called Miami Squeeze . . . bought $72 worth of drinks . . . and left the staff a tip for $2,021.
(The owner and employees told a reporter it made them want to work even harder.)
___________________________________________________________________________
BIRTHDAYS
[60] Julia Louis-Dreyfus, actress ('Selina Meyer' on "Veep" 2012-19, "Seinfeld" 1989-98)
[59] Trace Adkins, country singer
[55] Patrick Dempsey, actor ("Grey's Anatomy" 2005-15
[44] Orlando Bloom, actor
[31] Liam Hemsworth, actor 
_________________________________________________________________________
HOME WORK (out):
A recent study has found that you'll live longer if you can manage just 11 minutes of movement a day. And, yes, between the Zoom meetings, Netflix binges and closed gyms, the pandemic has definitely created some challenges when it comes to exercising.
You've heard about all those studies showing the health risks of prolonged sitting. Now, Scientists at the Norwegian School of Sports Medicine have found that study participants who exercised 35 minutes per day saw the biggest statistical difference on life span. But just 11 minutes of moderate exercise — equivalent to a brisk walk — still had a noticeable positive impact.
And both time frames were positively impactful, regardless of the amount of sitting. They say previous studies showing you need to do 60 or 75 minutes of exercise per day for longevity benefits were flawed because they used participants' self-reported data.
SHOPPING LIST:
Here are some of the items available at the "special" new business-focused Costco warehouse that opened recently near Montreal:
➢ A vat of Olive Oil:  And I do mean "vat". A 207-liter barrel (yes, an olive-oil drum) goes for $899.
➢ Watermelons Bigger Than Your Head:  Just $4.99 each.
➢ A Full Wheel of Parmigiano-Reggiano:  We're not sure how much it weighs, but it must be a lot, because it goes for $816.79.
➢ Pails of Nutella:  Complete with a handle so you can bring it with you wherever you go. 3kg (6.6 lbs.) for $20.99.
➢ Barrels of Maple Syrup:  They look like kegs and hold 18.9 litres of Bernard Maple Syrup. $199.99.
➢ A Huge Amount of Poutine Sauce:  18 kg (39.6 lbs.) of Rose Hill Melange Sauce Poutine — a true symbol of Quebecois pride. $59.99.
➢ A Package Of 1,100 Tea Bags:  You could drink a cup of tea every day for three years before running out. $26.99 (
➢ An Actual Shawarma Machine:  Shawarma, donair, kebab, gyros — they all come from a vertical broiler like this one. $2,799.99.
WEDNESDAY JANUARY 13TH  
CNN reporter Sara Sidner was doing a reporton COVID-19 deaths and broke down in tears.
BRUCE WILLIS was asked to put a mask on at a Los Angeles Rite Aid on Monday, but he refused to let his freedom DIE HARD.
Even though he had a bandana around his neck that he could have easily pulled up over his face, he opted not to.
He left the store without buying anything.   But he issued a statement yesterday calling it an "error in judgment."  He added, quote, "Be safe out there everyone and let's continue to mask up."
A woman in Ireland wantedto visit her mom in a nursing home, but got on the wrong bus.  And because of COVID, she couldn't be late or she'd miss her slot.  So the bus driver asked the other passengers if they'd mind a detour, left his route, and drove her straight there.
Here's comedian Jim Gaffigan on the subject of bedtime for his kids.
Justin Moore says he and his wife are still adjusting to spending so much time together because of the pandemic.  Listen to him talk about it, here.
Blake Shelton – tweeted a tribute to singer-songwriter Ed Bruce, who died on Friday at 81. Shelton wrote: What a standalone voice he had…Rest In Peace cowboy. I'm not loving 2021 so far". Bruce tallied 35 country hits, but is best known for co-writing 'Mammas Don't Let Your Babies Grow Up to Be Cowboys' with his former wife, Patsy.
Dolly Parton — has an unreleased song sitting in a time capsule at her Dollywood theme park. It is among number of items buried inside a wooden box at her DreamMore resort in Pigeon Forge, TN, until the year 2045. She'll be 99 when the time comes to open the box.
MORGAN WALLEN SETS FIRST DAY STREAMING RECORDS WITH NEW ALBUM
Morgan Wallen is making history with his brand new sophomore album, Dangerous: The Double Album, which was released on Friday (Jan. 8th). At Apple Music, he set the record for the biggest first day and biggest first week Country album of all-time on the platform. The album currently sits at Number One on their Overall Albums charts in the US, Canada and Australia, while simultaneously staking its claim as the Number One Top Country Album in 62 countries worldwide.
Morgan also broke the global first day streaming record for a Country album debut at Amazon Music. Dangerous is now Spotify's biggest all-time first day stream record for a Country album.
Last night (Tuesday, Jan. 12th), Morgan played his first-ever headline show at Nashville's historic Ryman Auditorium for Live At The Ryman, a full band, livestream concert.
_____________________________________________________________________________________
Is Morgan Wallen's "Sand in My Boots" a Ripoff of Kenny Chesney's "Anything But Mine"?
MORGAN WALLEN's new album has a song called "Sand In My Boots" . . . and some people think it borrows a little too heavily from KENNY CHESNEY's 2005 hit "Anything But Mine".
In both songs the narrator has a summer fling that ends with him driving back to Tennessee wondering what might have been.  Whiskey Riff compared some of the lyrics.  (Here's that.)
The melodies are also similar.  Especially around the chorus.
Fans have been hitting up Twitter about it.  One wrote, "'Sand In My Boots' is giving me major 'Anything But Mine' vibes and I am here for it."  Another said, "'Sand in My Boots' is a modern day 'Anything But Mine'."
And I like the turn of phrase in this Tweet.  "Kenny's 'Anything But Mine' walked so Morgan's 'Sand In My Boots' could run."
______________________________________________________________________________
ERIC CHURCH'S NEW SONGS WERE ALL WRITTEN BEFORE THE PANDEMIC
Eric Church has been treating fans to several new songs over the past few months, including  "Crazyland," "Through My Ray-Bans" and most recently, "Doing Life With Me." While these songs may sound like they were inspired by the global pandemic, they were all written before that began.
Eric talked about the songs late last year at the CMA Awards where told reporters: ["We made this project before COVID ever existed. So, for me, we never came in reacting to COVID. We made this project, we wrote this project, we recorded this project before we ever knew what COVID was. I think a lot of that is a little bit divine that if you listen to the songs and you hear what the songs are, you very easily go, 'This sounds like they were in the middle of quarantine,' but we weren't."] SOUNDCUE (:29 OC: . . . but we weren't.)
Eric's recently-released songs were penned during a marathon writing session held at a rural North Carolina cabin. He recorded a song from start to finish each day for nearly a month.