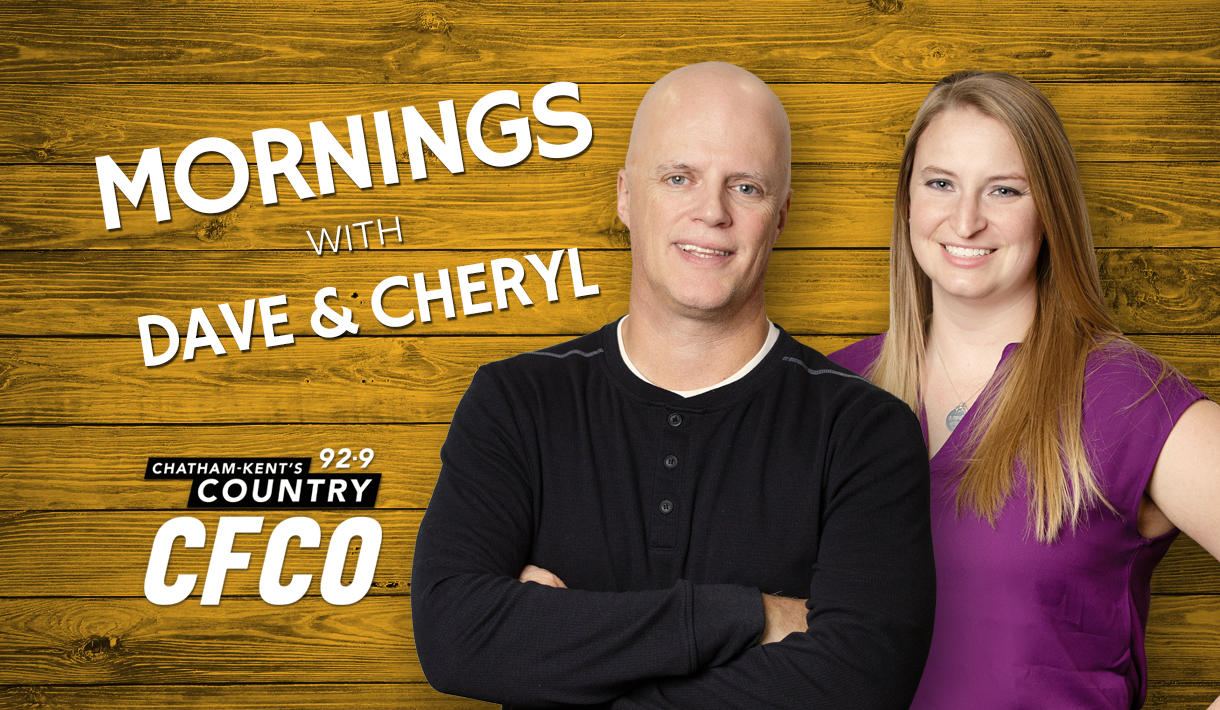 On Today's Show
➢ A man in Connecticut recently said on social media that he was donating a kidney to his fiancé, a guy named Luis Montanez.  And they mentioned the date of the surgery.  So some horrible people waited for the day to come, and robbed their house while they were gone.  (The guy in the middle of the clip who says "enough is enough" is Senator Richard Blumenthal, who went to visit them after the break-in.)
➢ A lot of us know the struggle of working from home, but nobody is feeling it more than a Washington State man who is a County Councilman. Ben Elenbaas was having trouble with his WiFi signal during a virtual meeting so he went into his barn to stay connected.  That's when
➢ A professor in Kentucky was doing a class online when one of his cats started sniffing the backside of his other cat.  Here's how that went down.
➢ A Doctor has gone viral with his tip on how to keep your glasses from fogging up when you're wearing a face mask. Last week Dr. Daniel Heiferman, a neurosurgeon in Memphis, TN, shared a selfie on Twitter which shows him wearing a face mask with an adhesive bandage plastered on the top of it. In the caption, he wrote: "If you're having a hard time with glasses fogging or keeping your mask up over your nose, a simple band aid does wonders" He explained that a lot of surgeons actually use surgical tape for the same purpose, but a Band-Aid has a cotton pad that helps prevent skin irritation.
➢ Some people freaked out when the Charlie Brown specials moved exclusively to Apple TV+ . . . because then they'd no longer be airing on broadcast TV.
Well, the people at Apple have apparently reconsidered, and are allowing the next two . . . "A Charlie Brown Thanksgiving" and "A Charlie Brown Christmas" . . . to air on PBS.  At least this year.
The Thanksgiving special will air this Sunday on PBS stations, while the Christmas one is set for December 13th.
TODAY IS……………….
"International Men's Day", now celebrated in over 60 countries
"Women's Entrepreneurship Day", a global movement to celebrate, empower, and support female entrepreneurs around-the-world.
"World Toilet Day", still a luxury in many parts of the developing world.
2014  A second round of heavy snow hits the Buffalo, New York region, accumulating over 5 feet and causing 7 related deaths plus dozens of stranded travelers
_____________________________________________________________________________
COUNTRY MUSIC NOTE
November 19th, 2004             Josh Turner gets his first platinum album with Long Black Train
_____________________________________________________________________________
George Clooney Explains Why He Gave 14 of His Friends a Suitcase Packed with $1 Million
A few years back, one of GEORGE CLOONEY's friends said that George once invited 14 friends over for dinner . . . and surprised each one of them with a suitcase, which contained a MILLION DOLLARS . . . in CASH.
George has never confirmed or denied the story . . . until now.  And it's TRUE.
In an interview with "GQ", George said that it happened in 2013, after he met his wife Amal . . . but before they started dating.  He was single, had plenty of money, and wanted to thank the people who helped him get where he was.
The friends were mostly older than him.  They'd loaned him money . . . let him sleep on their couches when he was broke . . . and helped him in other ways over the past 35 years.
He said, quote, "I thought, you know, without them I don't have any of this . . . [and] am I waiting to get hit by a bus?"
Okay.  So how was George going to get his hands on $14 million in cash?
He did some research, and found out that there's an "undisclosed location" in downtown L.A. that has, quote, "giant pallets of cash."
And that's when this starts to sound like a heist movie.
He rented an old beat-up van that said "Florist" on it, and drove to the place.  He got in a freight elevator, WITH the van, took it down to the vault and loaded it up with cash.
He only told his assistant and a couple of security guys.  George said they were SOILING THEIR SHORTS over the plan.  But he pulled it off without a hitch.
George divided the loot into 14 packs, and they weren't as heavy as you'd think.  He didn't talk about how he handled the taxes . . . but the friend who first told the story said that George told them he'd covered that beforehand.
GOOD NEWS
Divine intervention can take many forms.  Like in this case, where it took the form of a graveyard shift worker at Walmart who eats lunch at two in the morning and somehow morphs into a superhero during a crisis.
A guy named Harry Ulmer is an overnight maintenance supervisor at a Walmart in south Philadelphia.
He was taking his lunch break after 2:00 A.M. on Saturday when he heard a man screaming.
The man in his 30s had fallen in the freezing Delaware River nearby while he was trying to take a selfie, and he was yelling for help.
So Harry sprinted about 200 yards toward the pier, hopped the locked fence, then broke off two logs from a tree, tied a rope around them, and threw them to the guy.
He also called 911 while the guy held onto the improvised floatation device until more help came.
The guy was treated for hypothermia at the hospital but he's going to be OK.
______________________________________________________________________________
BIRTHDAYS
[59] Meg Ryan actress
[59] Jodie Foster, actress (2 Oscars-"The Accused", "Silence Of the Lambs")
[47] Billy Currington, country singer
[44] Jack Dorsey, billionaire businessman/web developer (co-creator of Twitter.com)
[37] Adam Driver, actor ('Kylo Ren' in the "Star Wars" franchise)
A Ponzi Scheme Suspect Tries to Get Away Underwater by Using a Handheld "Seascooter"
There's a 44-year-old guy named Matthew Piercey from Palo Cedro, California.  And he's been running a $35 million Ponzi scheme since 2015 . . . mainly by convincing people at his megachurch to "invest" with him and then pocketing the money.
On Monday, the FBI went to his house to arrest him.  He took off in his pickup, drove to a lake, and then jumped in.
But he had a plan.  Matthew had a Yamaha 350LI Underwater Submersible.  That's a "seascooter" that basically drags you around underwater at about four miles-per-hour.
There were a few flaws in his plan, though.  One, he jumped in a lake, so it wasn't like he could escape to freedom.  Two, he didn't have breathing equipment, so he had to keep coming up for air.  And three, the lake was REALLY cold.
He finally got out after 25 minutes and he was arrested for wire fraud, mail fraud, money laundering, and witness tampering.  He's looking at up to 20 years in prison.
Police Catch a Guy Who Had a Couch Strapped to the Top of His Getaway Car
There's nothing like making your getaway car more CONSPICUOUS and SLOWER to really guarantee you won't get away with a crime.
There's a 34-year-old guy named Joseph Johnson from Milwaukie, Oregon.  And he recently robbed a Hardware store at gunpoint, then fled in his Mazda SUV.
But he wasn't hard to spot, and he couldn't have been driving particularly fast . . . because he had a COUCH strapped to the roof of his car.
The cops easily tracked him down and arrested him.
It turned out the Mazda was stolen, but there's no word on whether the couch was there when he stole the car or not.
He's facing several charges, including robbery, eluding, and more.
____________________________________________________________________________
3 in 4 People Use Their Phone While Going to the Bathroom
Here's a stat that might freak you out in this new well-scrubbed world we're in . . .
77% of Americans use their phone WHILE using the toilet . . . including 1 in 7 who always do.
In addition to the 14% of Americans who said they always use their phone when they use the bathroom, another 60% sometimes do . . . 3% weren't sure . . . and 23% claim they never do.
Men were more likely to say they always use their phone in there . . . 16% compared to just 11% of women.
And age is a big factor too.  Almost everyone under 35 does it at least sometimes.  But only about half of people 55 and up do.
THURSDAY NOVEMBER 19TH  
Jimmy Fallon did another one of his "Drop It In" segments, where he gets famous people to say random things during interviews.  This time it was a bunch of NFL players, including Rob Gronkowski, being asked to explain, "It must be maple syrup because butter don't drizzle like that."  (From "The Tonight Show" on Monday, November 16, 2020)
Here's a fisherman in Maine describinghow he saved a tiny bird that was blown miles offshore by strong winds.  (He gave it food and water and brought it close enough to dry land so he could release it safely.)
Tens of thousands of people have to get new turkeys after the ones they ordered were destroyedin a fire.  Around 80,000 smoked turkeys at the Greenberg Smoked Turkey factory in Tyler, Texas were lost.  (Here's the owner, Sam Greenberg, talking about it.  For the record, no live turkeys were injured.  Greenberg buys and then smokes frozen turkeys.)
Here's comedian Jimmy Dunn, who's getting ready for the cold winters in Boston.  (A coat store employee told him how a Gore-Tex jacket would keep him warm and dry, but Jimmy wanted to know how it would do with gravy stains.)
DUSTIN LYNCH
Dustin Lynch – has announced "The Dustin Lynch Pool Situation: Vegas" for June 3-6, 2021.
The weekend event will feature a headline performance by Lynch, alongside guest artists Jordan Davis and HARDY, in addition to DJ sets from Brandi Cyrus.
Tickets are on sale now.
THOMAS RHETT SAYS THAT EVERYBODY HAS SOME 'COUNTRY' IN THEM
Thomas Rhett's brand new song, "What's Your Country Song," is filled with old country song titles and lyrics which speak to the "country" in everyone. Thomas wrote this song with a handful of co-writers, including his dad, Rhett Akins, while in a hotel room in Dallas last year while on tour before the country got locked down.
He tells us that the idea for the song was his. ["We were just talking about ideas for songs and I just mentioned an idea of what's your country or where's your country or something like that.  And they were just asking me where that inspiration came from, and I just noticed that whether I was in Los Angeles or New York or Seattle or Nashville or anywhere in between, I just kinda noticed that everybody had some country in them, you know?  Whether you lived in the city or wherever you lived, I think everybody has a little bit of country inside their bones.  And so, we were just talking about how can we write this song, and so we decided to dive in and make the whole song old country song lyrics that tied into a story."]
"What's Your Country Song" will be included on Thomas' next album, which is scheduled for release in 2021.  Thomas and his wife, Lauren, will co-host this year's CMA Country Christmas special, set to air on ABC on Nov. 30th.
NEW GARTH BROOKS ALBUM OUT ON FRIDAY
Garth Brooks will release a new album TOMORROW. It features "Shallow," his duet with wife Trisha Yearwood as well as "Dive Bar" with Blake Shelton. Garth tells us more: ["The whole reason why FUN hasn't been released was hesitation of having fun or celebrating Fun's release in the midst of a pandemic when people are struggling. But now the pandemic has gone on so long, [the]
DOLLY PARTON TO RECEIVE BILLBOARD'S HITMAKERS AWARD – (11/19/2020)
Dolly Parton will be honored with the 2020 Hitmakers Award during Billboard's 15th annual Women in Music Event. The virtual event is set to take place on Dec. 10th and will livestream beginning at 8 p.m. ET at billboardwomeninmusic.com. The Hitmakers Award is given to an artist "whose compositions have significantly impacted culture."
Other artists being honored at this year's event include Jennifer Lopez, Dua Lipa and Chloe x Halle. Cardi B is being honored with this year's Woman of the Year award.
FAST FACTS
Reba McEntire received the first Billboard Woman of the Year award in 2007.
Taylor Swift is the only recipient in history to be named Woman of the Year more than once, in 2011 and 2014.