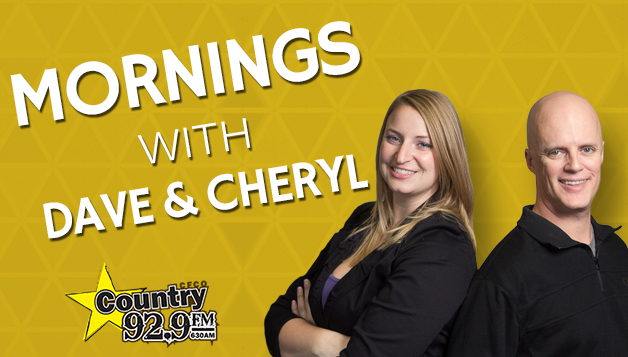 On Today's Show
THURSDAY JANUARY 10TH                          –                         WHAT'S HAPPENING
Bringing a tree into your home means you could also deal with some creepy crawlies if you're not careful. Molly Kreuze of Springfield, Virginia said more than 100 praying mantises hatched inside of her home after they hitched a ride inside on her Christmas tree. She posted a video showing her issue online, and said the insects emerged from a brown egg-shaped case that was located under the tree's branches. Kreuze, who is a veterinarian, said she's trying to find new homes for the bugs as it seems "people really like [them]." She added that she plans to buy a fake Christmas tree next year.
______________________________________________________________________________
Officials say a giant "fatberg" — a mass of hardened fat, oil and baby wipes measuring 64 metres long — has been found blocking a sewer in a southwestern English town.
Officials in Sidmouth say it will take a sewer team around eight weeks to dissect the monstrosity under such exceptionally challenging work conditions.
They continue to urge the public not to pour grease down the drain, or flush baby wipes down the toilet, adding — quote — "Don't feed the fatberg."
______________________________________________________________________________
ENTERTAINMENT
Kaley Cuoco has opened up about the upcoming filming of the last episode of "The Big Bang Theory", and like the rest of us, she expects a lot of tears. She said that "Going into Season 12, we were like, 'We've got a whole season and a lot of episodes. Now we're on the second half and it's starting to get a little heavy." And she hopes they preshoot the whole last episode, because she likely won't be able to hold it together.  The Big Bang Theory will end its run in May, but Cuoco doesn't rule out the idea of reviving the show at some point.
 _______________________________________________________________________________
TODAY IS……………….
"Houseplant Appreciation Day", a day to salute their therapeutic value in lifting your mood and outlook.
1949, RCA and Columbia introduced 45 and 33 rpm VINYL RECORDS.
1982   "Fraggle Rock" premiered on HBO 35 years ago today.  It was created by Jim Henson, it was HBO's first original series, and it was the first American TV show to be broadcast in the Soviet Union.
1999 [20] "The Sopranos", starring James Gandolfini as mobster Tony Soprano, debuts on HBO
_____________________________________________________________________________
COUNTRY MUSIC NOTE
January 10TH, 1998   Martina McBride hits #1 with "A Broken Wing"
_____________________________________________________________________________
There's a New Record for the Most Retweeted Tweet Ever . . .
There's a new record for the most retweeted tweet ever.  And I guess that kind of makes sense, because it might be the most LUCRATIVE tweet to retweet ever.
There's a billionaire in Japan named Yusaku Maezawa.  He got rich by founding an online fashion company called Zozotown.
And on Sunday, he tweeted that he was going to give away 100 million Japanese yen to 100 random people who retweeted him.  That works out to about $924,000, or a very solid $9,240 per person.
And the retweets FLOODED in.  As of the last time we checked, it was up over 5.5 MILLION.
Unfortunately, if you're looking to get in on this, it's too late.  The deadline for retweets was yesterday.
The old record for retweets was held by that dude a few years ago who asked Wendy's for free nuggets.  They told him it'd take 18 million retweets . . . but they caved when he managed to get 3.5 million.
______________________________________________________________________________
TODAY'S GOOD NEWS
A 72-year-old woman named Barbara Cotton recently got on the website Classmates.com, and found an ex-boyfriend named Curtis Brewer.
They dated all through high school . . . went to two different proms together . . . but had to split up when he went off to college.
She says they technically never broke up.  They just lost touch for over 50 years, and lived in different states.  But when she sent him a message online, he responded immediately.  And it turned out they were both single.
So they started talking again.  Then in August, Curtis couldn't take being away from her anymore and PROPOSED over the phone.
They got married in Milwaukee this past Saturday, more than 50 years after they originally dated.
For their honeymoon, they're planning to travel the country in an RV.
______________________________________________________________________________
BIRTHDAYS
[70] George Forman, (Two-time heavyweight boxing champion/Olympic gold medalist/cooking grill spokesperson/father of five sons….all named George Foreman
[58] Janet Jones, actress ("A League of Their Own", "Police Academy 5: Assignment Miami Beach", wife of Wayne Gretzky since 1988)
_________________________________________________________________________________________ 
WHAT'S YOUR TAKE?
A popular French author, who just so happens to be 50 years old, recently told a magazine he would never get romantically involved with anyone his age or older. "That's not possible … too, too old,"
Yann Moix said that such women are "invisible" to him and he would be "incapable" of loving one. "I prefer younger women's bodies, that's all. End of," he concluded. "The body of a 25-year-old woman is extraordinary. The body of a woman of 50 is not extraordinary at all."
Moix, who is also the host of a popular TV talk show, has won several literary prizes and directed three films. His comments, not surprisingly, sparked quite an uproar, with many calling him out on social media for both ageism and sexism.
He seemed to be taking the controversy in stride saying "50-year-old women do not see me either! They have something else to do than to get around a neurotic who writes and reads all day long. It's not easy to be with me."
_______________________________________________________________________________________
You Should Stop Showering So Much
Maybe you should stop showering so much.  Sure, it's not going to make you popular with your coworkers, family, and friends, but at least you'll have better skin or something.
There's a pretty strong consensus among dermatologists that you don't need to shower every day . . . and in fact, it's better for your skin if you don't.  But . . . three-quarters of us do it anyway.
According to a new survey, 49% of people shower once a day . . . 20% take one almost every day . . . and 6% take MORE than one a day.
And they're all worse off than the 18% of people who shower two or three times a week . . . the 3% who only take one shower a week . . . and the very self-confident 1% of people who only take one a MONTH.
______________________________________________________________________________
RANDOM REPORT
France was the first country to start using the metric system, in 1795.  St. Lucia was the most recent, in 2005.
The lead role in "Die Hard"was originally offered to Frank Sinatra . . . since it was technically the sequel to a movie, he'd starred in called "The Detective".  But he was 73 at the time, and turned it down.
The tallest mountain in the solar system is on Mars.  It's 16 miles high, or about three times higher than the tallest mountain on Earth.
The longest marriage ever was just under 91 years.  It was a couple in England, and they were married from 1925 until the husband died in 2016.
____________________________________________________________________________________
THURSDAY JANUARY 10TH                                           
TODAY'S BIRTHDAYS
[70] George Forman, (Two-time heavyweight boxing champion/Olympic gold medalist/cooking grill spokesperson/father of five sons….all named George Foreman
[58] Janet Jones, actress ("A League of Their Own", "Police Academy 5: Assignment Miami Beach", wife of Wayne Gretzky since 1988)
——————————————————————————————————————————-
Amazon CEO JEFF BEZOSand his wife MacKenzie are getting divorced after 25 years of marriage, and to say a lot of money is at stake is a MASSIVE understatement.
Jeff is by far the richest man in the world, worth over $136 BILLION.  Most of that is tied up in Amazon stock, so that's probably how MacKenzie will be paid whatever settlement she's getting.
If she gets even HALF her husband's fortune, she'll be the 5th richest person in the world, and by far the richest WOMAN in the world.  She'll also be worth more than Facebook founder MARK ZUCKERBERG.
If Jeff and MacKenzie settle amicably and without the aid of the courts, we'll probably never know the terms.  And it sounds like that's what's happening.
NHL
Calgary                        5          Colorado         3
Ottawa            2          Anaheim          1
Nashville         4          Chicago           3 (ot)
Michael Strahan spent a full segment trying to talk to Kevin Hart about his past homophobic comments but Kevin wasn't having it.  Kevin just kept saying he was 'over' talking about it.
A guy in northern California recently told his roommate he hit the lottery for $10,000.  So the roommate stole the ticket, and swapped in a phony one he altered to look like the real one.
So when the guy went to cash it, lottery officials told him it was fake.  Then the roommate showed up to cash the real ticket on Monday, and got arrested.  Here's the craziest part.  They both thought the ticket was for $10,000 . . . but it was actually for $10 MILLION.  So now the guy's a millionaire, and the roommate is facing charges for grand theft.  Here's a cop, and a lottery official.
 _______________________________________________________________________________________
CARRIE UNDERWOOD, KEITH URBAN, PART OF ALL-STAR ELVIS TRIBUTE
The Elvis All-Star Tribute will air February 17th on NBC.
The show was taped in October, and features Carrie Underwood, Keith Urban, Blake Shelton,
Kelsea Ballerini, Little Big Town, Pistol Annies, Darius Rucker, and stars from other genres such as
Ed Sheeran, John Legend, Shawn Mendes, Josh Groban, Jennifer Lopez, Adam Lambert, and Post Malone.
Elvis' widow Priscilla Presley will appear on the special, as will his daughter, Lisa Marie Presley.
The special, hosted by Shelton, will create the look and feel of The King's legendary '68 Comeback Special, where he performed both stand-up, rocking numbers and a more intimate, stripped-down set wearing black leather.
Along with the special, an album called The Best of the '68 Comeback Special will be released on February 15th.
How Does Florida Georgia Line Decide Who Will Sing Lead on Each Song?
When a FLORIDA GEORGIA LINE song comes through the speakers, you're almost always hearing TYLER HUBBARD singing lead, and BRIAN KELLEY doing harmony.  It works for them.
But that arrangement's not set in stone.  Brian says it's a team decision about who takes the lead . . . and it's driven by what's best for the song.
QUOTE "Tyler and I have always been big on what makes that specific song the best and we just kind of chase that down and whether that's me singing a little bit lead here and there or Tyler singing the whole thing and me doing all the harmonies.
"Whatever's the best for the song, we've always just chased that down and it gives us just a little bit different sound.  It keeps it fresh."
But since Tyler is the top dog on their biggest songs, when Brian does handle lead vocals it almost sounds like an entirely different band.
Florida Georgia Line will support their upcoming album, Can't Say I Ain't Country, with an arena and amphitheater tour of the same name with special guests Dan + Shay and Morgan Wallen.  The Can't Say I Ain't Country album will be released on February 15th.
AUGUST  22 | Clarkston, MI – DTE Energy Music Theatre